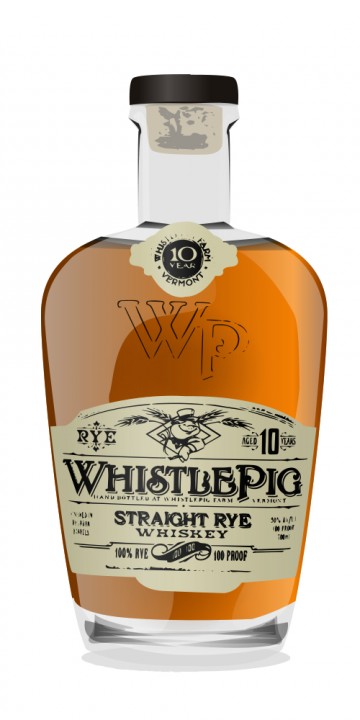 According to their website WhistlePig began with the purchase of a farm in 2007. After a few years of "deep consideration and personal reflection we committed ourselves to crafting the world's finest and most interesting Rye Whiskeys." No, I'm not going to rant on marketing stories here. WhistlePig should be commended for not referring to any "great-great grandpappy's secret recipe", but rather being transparent about their process. WhistlePig teamed up with Master Distiller Dave Pickerell, bought rye whisky from Alberta that "was being profoundly misused". This 10 Year Straight Rye is a 100% rye whiskey which was sourced from Alberta Distillers and then re-casked and aged in Vermont. It is first aged in new American oak and finished in first-fill ex-bourbon barrels.
Thanks to @Nozinan for the sample
Neat from a Glencairn
Nose: surprisingly soft, vanilla, gentle baking spices (cloves, allspice, cinnamon), oak, a bit of ginger, caramel. With time in the glass, the floral vanilla notes dominate.
Palate: slightly hot arrival, green and vegetal initially, with some black pepper, cinnamon, and a bit of caramel
Finish: medium length, the green and vegetal note refuses to go away, there's some cinnamon and black pepper with a bit more oak and vanilla.
Thoughts: a decent whiskey to be sure, but nothing that moves my spirit. The "green" notes are a bit odd. To be completely honest I find them a little off-putting. I'm glad I waited for a sample before dropping $100 on a full bottle. I might grab a bottle if it were $50, you know, to keep around as an oddity but at $100 it's a hard no from me. I can see how this bottle might appeal to some, but it's not really my preferred style of rye whiskey. I want my ryes to be spicy with a bit of toffee sweetness.
Here are Whistlepig Rye details provided by the late (d. 1 November, 2018) Dave Pickerell:
@RianC The best rye I've ever tasted was 2018's Lot 40 Cask Strength 11 Year Old. I liked it even better than 2017's CS 12 year. The 11 year perfectly balanced intense rye spice (cinnamon, clove, nutmeg, cardamom) and deep, low-pitched brown sugar/toffee notes.