Wolfburn Private Cask 2017/540
Sophisticated
0 086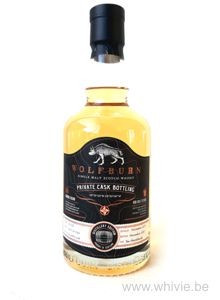 Nose

~

Taste

~

Finish

~

Balance

~

Overall

86
Distribution of ratings for this: brand user
Last year I tasted this private cask from Tom after he had let it come to Belgium just before the Brexit troubles. Well, not the whole cask, though. He bottled 36 bottles. The 3-year-old gem was then at 61.2%. At the end of 2021 Tom had another 36 bottles shipped and that makes this very interesting. The malt has therefore been in the cask for exactly one year longer. Let's see what evolution this Wolfburn has gone through. I'll put the first one next to it to make a real comparison.
Where the previous version offered white chocolate with dried coconut and vanilla, this one goes a lot further. Crème brûlée, gooseberries, lime juice and fried banana. Much 'darker' than its predecessor, if you know what I mean.
There is also a clear evolution noticeable on the palate, although it is still young and cheeky. Beautiful notes of vanilla, coconut and a few grains of table salt, a lot of herbal notes (think green garden herbs) and lime. But clearly rounder. Less sharp. Refined yet playful. Nice pepper, too. Amusing.
The finish is nice and long on white pepper, vanilla and fresh lemon juice.
The difference may not be earth shattering, but it is clearly noticeable when you put them head-to-head. An extra year brings a lot, especially at such a young age. Nice evolution, though. I hope that Tom will bottle 36 bottles again next year and give me the opportunity to buy a bottle again.