Wolfburn Private Cask 2017#540
Amusing
0 086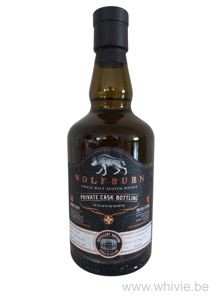 Nose

~

Taste

~

Finish

~

Balance

~

Overall

86
Distribution of ratings for this: brand user
This is already the 4th time I can taste this private cask. In February 2019 – when it was not yet whisky – as a cask sample at 63.5%, at the end of 2020 when owner Tom Haseldonckx had the first bottles delivered – before Brexit – at 61.1% and then another year later in May 2021 at 60.2%. Apparently Tom came to an agreement with Belgian bottler Klubb23, because now the last 95 bottles of that same cask came on the market at 59.6%. Well, that's really interesting, because I still have a bit from the previous two, so I can do a real head-to-head-to-head. Exciting!
Yes, this is fun! The nose has further developed. I get coconut, gooseberries, cereals, crème brûlée and a handful of nuts. There is also something floral and something of garden herbs appearing in the background. Rosemary? Some honey and some fried banana for a sweet. Amusing.
It's still pretty spicy on the palate. Young and cheeky, peppered with a nice bitterness like sweet chestnuts. The pepper even evolves into chili, while a few grains of table salt are dropped into my glass. White bread, lime, vanilla, the flesh of coconut and unripe pineapple. And also the oak is present this time with some ginger, licorice and a light drying effect.
The finish is very long on vanilla, lemon juice and white pepper. Dry on the deathbed.
It is not surprising that it is getting better and better. And although the difference with the previous version is not that big, you still notice – especially on the nose – that it has acquired more complexity. I wonder how it would have tasted when it would be about 6, 7 years old, but by now the whole cask has been bottled. I had fun with this!