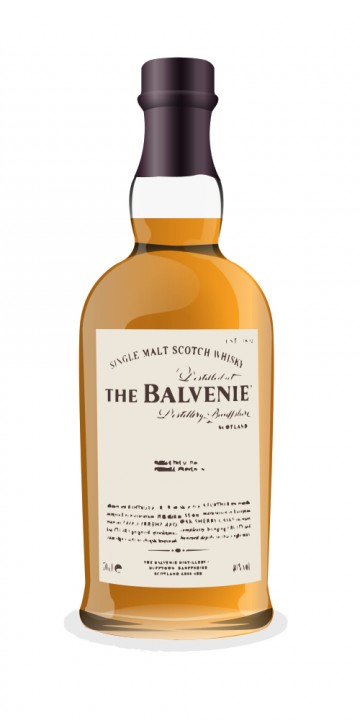 I've tried a few Balvenies but never actually owned a full bottle until this one. I'll happily admit I saw a Ralfy review a couple of years ago and was curious so bought a bottle and have sat on it until now. This is from a first fill bourbon barrel. Bottle has 2/3s left and open just under two months.
This review has about a tsp of water to a 35 ml pour (it's Friday after all) and has been sat a good twenty minutes. I'm not even going to bother adding neat notes - it really needs water.
Nose: Dry and sour. Some coconut, slight parma violet sweets, lemony (pithy) malt. Bitter honey. Some fresh oak but pleasantly so. Herbal, mint particularly.
Taste: Again the arrival is sour and almost bitter but this is not wholly cask led. It develops into a more creamy malt with some slight sweetness emerging. The parma violet note is there with some mint and rose water.
Finish: Medium. Sour, dry but this is balanced by a touch of the lemony malt. Very dry at the end with some soft licorice root tinged tannins.
This was not love at first sight by any means; in fact I'll use a well worn cliche and say this is not an easy access malt. It's the most sour and dry whisky I've had but it's no bad thing. This is unique and challenging but a very enjoyable whisky and one that forces you to look a bit deeper - It's simple, honest well made stuff. Form and mouth feel are excellent and it's perfect foil to idly watch the World Cup with on a hot Friday night.
Having a dram of this in my Taylor D glass (like a big Glencairn) I think I can put my finger on the sweetness - there's an icing sugar like sweetness that underpins the sour elements. There's also a heck of a lot of vanilla . . . so much it's like not mentioning peat in a heavy Islay i.e. easy to do as you kind of need to get beneath it. Anyway, it's there and lots of it. Slightly less water added to this pour mind than the review.
@RianC Looks like a cross between the (recalled) Kentucky Bourbon glass and the Glencairn.