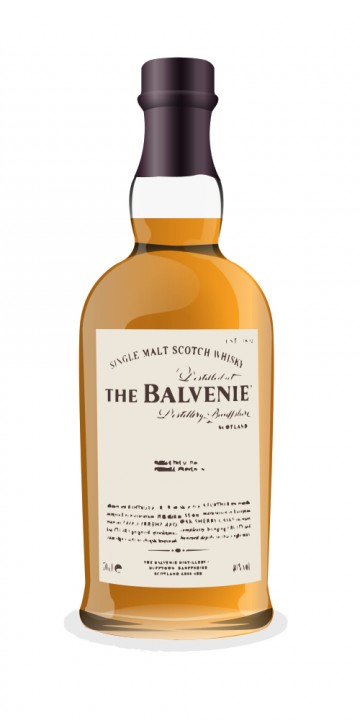 I've tried a few Balvenies but never actually owned a full bottle until this one. I'll happily admit I saw a Ralfy review a couple of years ago and was curious so bought a bottle and have sat on it until now. This is from a first fill bourbon barrel. Bottle has 2/3s left and open just under two months.
This review has about a tsp of water to a 35 ml pour (it's Friday after all) and has been sat a good twenty minutes. I'm not even going to bother adding neat notes - it really needs water.
Nose: Dry and sour. Some coconut, slight parma violet sweets, lemony (pithy) malt. Bitter honey. Some fresh oak but pleasantly so. Herbal, mint particularly.
Taste: Again the arrival is sour and almost bitter but this is not wholly cask led. It develops into a more creamy malt with some slight sweetness emerging. The parma violet note is there with some mint and rose water.
Finish: Medium. Sour, dry but this is balanced by a touch of the lemony malt. Very dry at the end with some soft licorice root tinged tannins.
This was not love at first sight by any means; in fact I'll use a well worn cliche and say this is not an easy access malt. It's the most sour and dry whisky I've had but it's no bad thing. This is unique and challenging but a very enjoyable whisky and one that forces you to look a bit deeper - It's simple, honest well made stuff. Form and mouth feel are excellent and it's perfect foil to idly watch the World Cup with on a hot Friday night.
@Nozinan they have started rolling out the new "sturdier" version of the Kentucky Bourbon Trail glass. I have yet to find a reliable source for them in Canada, I called the Canadian arm of Libbys to see if they could help but never heard back. That being said, I don't think you're too much at risk, they probably recalled to avoid any issues I doubt that they spontaneously explode...just keep em' away from @paddockjudge he seems to buy a lot of glasses for some reason
@cricklewood Too late...but no accidents...Phew!