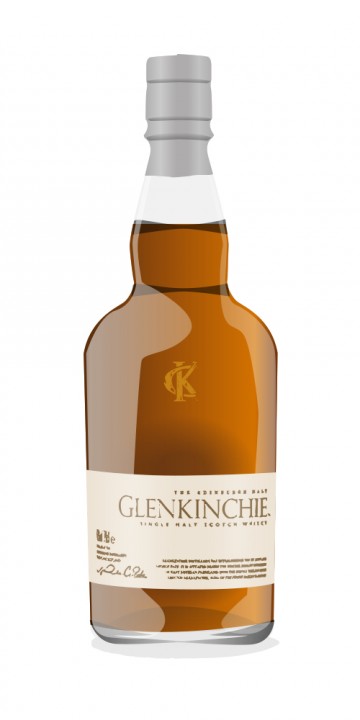 Glenkinchie can be found 25 kilometers south of Edinburgh, which explains its nickname 'The Edinburgh Malt'. The whisky was fairly unknown until Diageo added it to the Classic Malts series as representative of the Lowland style. We will try the old 10 Year Old, which has been replaced by the 12 Year Old in the meantime.
The nose is sweet with a truckload of breakfast cereals, a surprising trace of woodsmoke and freshly cut grass. Those typical Scottish oatmeal cookies emerge. But unfortunately there is also a strangely soapy side to it. Shampoo? Strange and a bit disturbing. Some candle wax and patato skins. Luckily also some oranges and heather honey.
The body is more than okay. I had expected this to be more flat. In fact, it is fairly powerful at first. Quite some sweetness: a combination of apple juice and orange juicy with some lemon juice in the mix. Loads of juices, eh? But also some candied ginger, black pepper and even a salty edge that I did not expect. You could almost say this is complex. But that is not synonymous for good. This is okay-ish. The soapiness now leans towards bubblegum with caramel.
The finish is longer than expected with a lot of caramelized and peppered citrus fruit and sweet barley sugars at the death.
This is far from a great malt and you know that I have a soft spot for Lowlanders, so that is saying something. I'll stick to Auchentoshan or Bladnoch (unless you still have a bottle of Rosebank of Saint Magdalene on the shelf, obviously).
@markjedi1 thanks for the review, your Lowlander appreciation status is noted on this
Sounds about right, @markjedi1. Thanks for your review.
For me more than a hint of 'soapy' is the kiss of death for whisky.