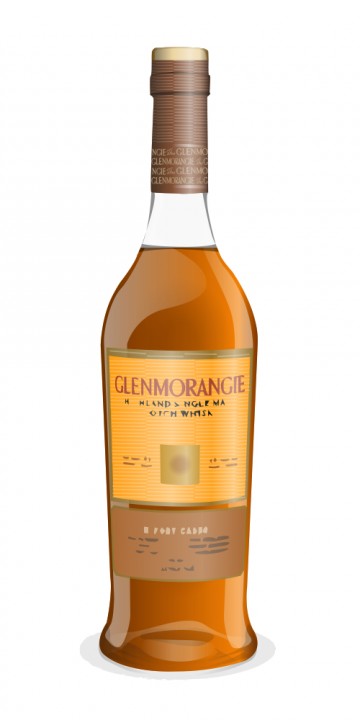 Glenmorangie 15 year old Bourbon Cask 43%
I bought this bottle back in early 2011 at a boutique in Yaoundé specializing in good quality Bordeaux wines. It was the only bottle at the time that seemed out of the ordinary and I thought I would give it a shot because I enjoyed the Glenmo 10. I opened it a few weeks after purchase and was pretty disgusted. I shared it with my mother and law and from the expression on her face, she didn't think much of it either. At that time, I would have given it a below 65, to me it was very closed and was too astringent, it smelled and tasted like a strange cleaning chemical (carpets?). I left the bottle with about 90% of the whisky remaining tucked in the back of a cabinet. I planned to give it another go some time in the distant future, when either my palate or the whisky had improved.
Luckily, while in Yaoundé during the holidays, I gave it another go and there was considerable improvement on the part of the whisky.
If I remember correctly this bottle spent most of its life in a bourbon cask and I believe a small amount of time on new oak. Unfortunately, the packaging I need to confirm this is back in Yaoundé. I am going from my tasting notes on this review:
Nose: Vanilla, toasted Cocoa, marzipan, macademia, frangipani (a good smelling flower similar to vanilla but slightly more pungent), clove, ginger and white pepper. Nice aromatic nose!
Palate: Decent oily mouths feel on the front of the palate that is gone by the back palate. A citrus zesr and spice blast on the front palate, a good amount of cinnamon. On the mid palate I start to get mint, tea and black licorice. By the back palate the mint/tea dominates.
Finish: Very short mostly mint tea
Balance: Good nose, nice fireworks at the start, but there is no conection between the nose, mouth and palates and the finish is almost non-existent. There are much better options available from this distillery (10 yr, Nectar d'Or, Astar, Sonnalta PX)and excellent competing options availabe for well below the price I paid. These two factors have probably contributed to the demise of this particular bottling.
The bottle enhances my belief that in the beverage trade, most of what comes into countries like Cameroon is either commercial standards (JW, Chivas, Grants, Dewars, Famous Grouse, etc), entry level Single Malts (The Glens, Ardbeg 10, Dalwhinnie 15, HP 12, etc) or trade rejects (this is my opinion of this bottle). With wines it impossible to see classed Bordeaux from years with excellent vintages (i.e. 2005). I think providing a more technical, craft informed and less brand focused education with subsequent quality options to the more effluent segments of the population of Cameroon and countries with similar contexts could prove an interesting proposition for someone.