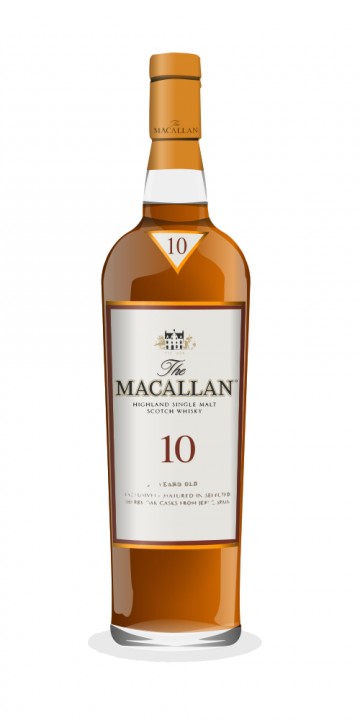 This one is a mini of the 10 year old (which was launched in 1978, though I don't think they make anymore?) I don't know when this one was bottled.
The colour is a medium copper (quite a bit darker than the G&M bottling I just reviewed). On the nose it's classic sherried Macallan: baking spices, dark chocolate, soft banana, dates and orange peel. Oversteeped tea. I'm guessing this is oloroso (whereas I'm not sure the Speymalt was). Maltier with water. Although light, this has real backbone.
On the palate we have more spices (cloves, cinnamon) with baked apples, rum-raisin, walnut and biscuity malt. Black cherries. Creamy mouthfeel. Water seems to harmonize the flavours somehow. Much richer than I was expecting from such a young malt.
The finish is long, with peppery spice, oloroso and oak. This was a nice surprise, rather rich and chewy compared to the Speymalt. Side-by-side you can totally see the house style of the distillery firmly entrenched in each, but the official 10 year old is richer, fruitier and spicier in every way. If the Speymalt is an aperitif, the 10 is a digestif. Jim Murray scores this a 91 and I would agree it belongs in that ballpark.
Wine-searcher.com still shows a lot of Macallan 10 Sherry Oak worldwide, but none in Canada. I've never seen it myself, and have always been curious about it. Thanks for your review, @talexander.
@paddockjudge, thanks for your very useful information about the Macallan Double Cask.
Thanks for sharing this rare dram with us. I recently tried the 12YO Double Cask and was disappointed. The presence of you know what has blemished this recent release.