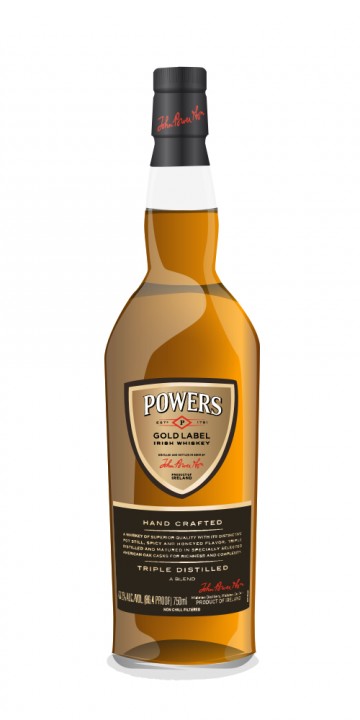 The Powers family started the distillery in 1817, and were fierce competitors of Jameson, each being on the opposite side of the River Liffey in Dublin. Powers pioneered the production of Irish vodka and gin, and bottled their own before anyone else in Ireland did. Did you know they also invented the miniature? Of course, in 1966 they joined forces with Jameson and the Cork Distilleries Company to form Irish Distillers, and production was moved to Midleton, where it is still made today. It is matured in American oak casks and is non-chill-filtered.
The colour is a medium gold. On the nose, we have baking spices, well-done toast, green apple skins and butterscotch (think candy apple, but less cloying). Crisp and dry, you can tell this has a high pot still content. Hint of oak. Linseed oil. Quieter with water. I love nosing this!
On the palate there is a careful balance between spice and smoothness. Freshly ground pepper, vanilla and rich honey. Oily mouthfeel. Freshly churned butter. Cloves and nutmeg. Where the nose was suppressed, the palate becomes even more alive with water. Absolutely delicious. If only Jameson were like this (hell, it's from the same distillery, so why can't it be?)
The finish is long and spicy, with ribbons of oak and savoury herbs. You'll notice on the bottle there is the impression of three swallows flying in formation. This is a joke; legend has it that Powers was supposed to be downed in "three swallows." But you won't want to do that with this bottling. It's everything you could want in an Irish blend: crisp, spicy and just the right amount of sweetness in perfect balance. While I wouldn't rate this a 96 like Jim Murray does (he also awards it Irish Blend of the Year), he's in the right ballpark - this is fantastic stuff.