Royal Brackla 13 Year Old 2000 Blackadder Raw Cask
Nothing Special
0 083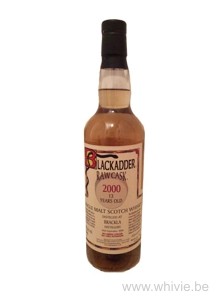 Nose

~

Taste

~

Finish

~

Balance

~

Overall

83
Distribution of ratings for this: brand user
The Brackla distillery – founded by Captain William Fraser of Brackla in 1812 – can be found close to Cawdor Castle, famous from Shakespeare's Macbeth. In 1835 it got a royal warrant from King William IV and since then they call themselves Royal Brackla. I am trying a rather young malt from 2000, bottled by Robin Tucek and his team in 2014 in their famous Raw Cask series.
Spring fresh nose on apples and peach, while a slice of lemon sits quietly in the corner. You would not say this is bottled at 58%, it's that soft on the nose. Notes of chicory, vanilla and mocha in the back. Nothing wrong with this, but nothing special either.
Good body, though. Nicely creamy. Honeysweet on appels and vanilla. Then some caramel shines through, followed by a lot of citrus fruit. Think lemon, mandarin and lime. Again: nothniing wrong with this, but nothing special. And no, it does not need water. Dangerously quaffable.
The finish is a fine continuation of both nose and palate. Fairly long.
Completely flawless, but rather boring single malt. This was only my 8th Brackla in over 4300 tasted whisky. That says it all, I guess.
Find where to buy Royal Brackla whisky