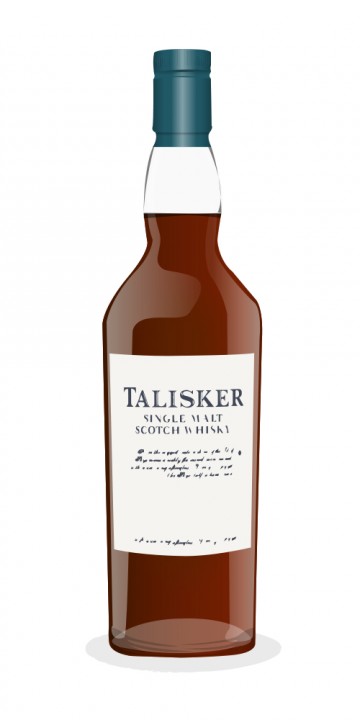 Talisker distillery is the only distillery on the Isle of Skye and was founded in 1830 by Hugh and Kenneth MacAskill, sons of the local doctor. It was rebuilt between 1880 and 1887, and was extended in 1900. In 1925 the distillery was acquired by the Distillers Company Ltd and today is part of Diageo. In 1972 the stills were converted to steam heating and the maltings floor was demolished. Talisker distillery is famous for its stills' swan neck lye pipes: A loop in the pipes takes the vapour from the stills to the worm tubs, so that some of the alcohol condenses before it even reaches the cooler; it then runs back into the stills and is distilled again. The Distiller's Edition is part of Talisker's core range; this version was distilled in 1993, finished in Amoroso sherry casks and bottled in 2006.
The nose starts with intense flavours of rubber (in a good way), followed by prunes, oranges and some caramel. Overall this is a rather fruity nose, interspersed with mild pepper.
The palate is full-bodied, salty and peppery. The smoke that was hardly present on the nose is quite prominent now. There are earthy notes, balanced by a fruity sweetness (mainly oranges and lemons).
The finish is of medium length, peppery and spicy. It is quite warming and ends on dried fruits and herbs.
I enjoyed this particular member of the Talisker core range although I find both the 10yo and the 18yo to have a more unique character than the Distiller's Edition. Still, this is a very well crafted single malt that I can imagine sipping on many different occasions.