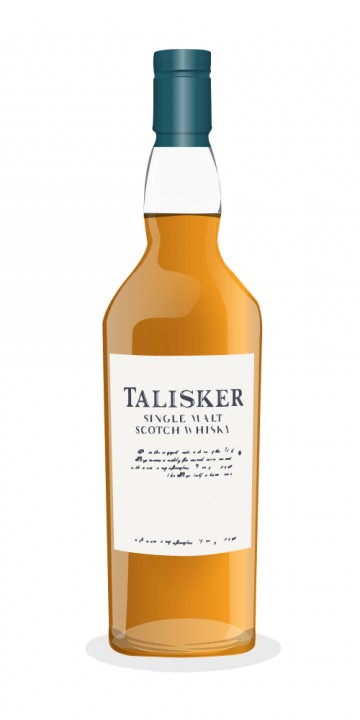 My thanks to @Nock for the reviewed sample, which is my third taste from this bottle. The reviewed bottle is # 10,280 of 15,600 total. It has been open for 7 months and is half full. Aging is reported to have taken place in a refill cask
Nose: this begins with the typical Talisker brine and medium peat initially underlain with a rich deeply-pitched honeyed underbelly here. This smells like a warm and reassuring hearth. The characteristic Talisker black pepper is seamlessly interwoven with the other flavours. The sweetness rather quickly shifts from honey to a higher pitched and more refined-sugar sort of range, with some wood influence of vanilla. The barley-malt is pretty gentle in texture and brings with it lemon citrus. Over time in the glass the elements of pepper and citrus, and, to a lesser extent, peat, increase in prominence. The balance among the flavours of sweet and bitter/briny is quite good
Taste: the nose flavours translate to the mouth with increased intensity
Finish: long echoes of sweet/bitter/brine, seasoned with lots of pepper
Balance: this is a quintessential example of the Talisker style, and a real treat to drink. You can taste long aging here in the mellowness of the aged barley-malt. The MALT component of the whisky tastes different when it has been long aged. Also, it should be noted that this whisky was mostly distilled and barreled in approximately 1980, back when industrial practices were a bit different and probably more personally hands-on. There is something noticeably different in the malts produced in the 60s and 70s...different better quality of barley? More personal loving attention from the staff? Both I should think
(Water added raised the pitch level and merged the flavours of the nose. Water merged the mouth flavours also, and emphasised medium intensity bitter-sweet peat. I much prefer this without water, even at 57.2% ABV.)
@rigmorole, thank you for joining in. Oh sure, I've commented several times on Connosr at greatly liking the Talisker 18 yo. I include it on my profile page list of favourite whiskies, and I've stockpiled several bottles of Talisker 18 for future consumption.
It is important to note that distillery bottled Talisker 25 yo comes in different year releases, which vary quite a bit in ABV, from 45.8% to 58.1%. I expect that there is some noteworthy variation among these various releases, but I only have experience with this 2005 release Talisker 25 yo.
Comparing 2005 Talisker 25 yo (db) to Talisker 18, the additional wood influence is obvious in the 25 yo. I would describe both the barleymalt component per se and the overall effect of the flavours of the 25 yo as more vivid and defined than those of the 18 yo, which always leave me with a soft warm fuzzy glow.
As to the "farmy" quality which you enjoy, I suspect that you'd find this 2005 Talisker 25 to be one step into that camp, but without the same strength of that effect which you find in Brora.
@Victor, have you tasted Talisker 18 before? How does the 25 compare? Some people seem to like the 18 better. Thanks for the awesome review! I think it's interesting that some reviewers say the 25 is "farmy" kind of like Brora.
I've tasted the 18 a few times in bars, but never the 25. Almost snagged a 25 for $135 but I would have had to drive over an hour each way. I've always kind of regretted that I didn't just make the drive and rent a room at the beach (where the store was located). I was just too busy at the time grading essays (I'm a community college writing instructor). I've got a few 18's that I haven't opened yet. I snagged those for $78 a piece back in the day.