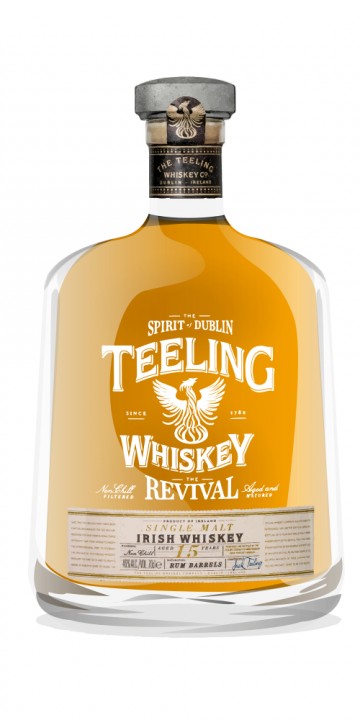 To celebrate the opening of the new Teeling Distillery in the heart of Dublin, the owners released a 15 Year Old Irish whiskey, that was put to sleep on rum casks in 1999. We still have to wait a little longer on their own production, so this Revival is from older stocks from Cooley.
Very fruity nose on mostly unripe banana and pineapple, with a hint of mango and guava. Mildly floral. Coconut kicks in with a vengeance, making it very sweet, followed by grapefruit. Some ginger and a pinch of salt.
You can almost call it tropical on the palate. All kinds of yellow fruit, but with a bitterness from both the oak and from pink grapefruit. It is a lot more spicy than you would expect after the soft nose. Again ginger, but mostly pepper now. A bit waxy, which I find very pleasant.
The finish is fairly long, but the oak does become very loud now. Not that I mind.
Wonderful Irish whiskey, but just a tad too expensive to my taste. Almost 95 EUR. The bottle does stand out in the cabinet, that is for sure.