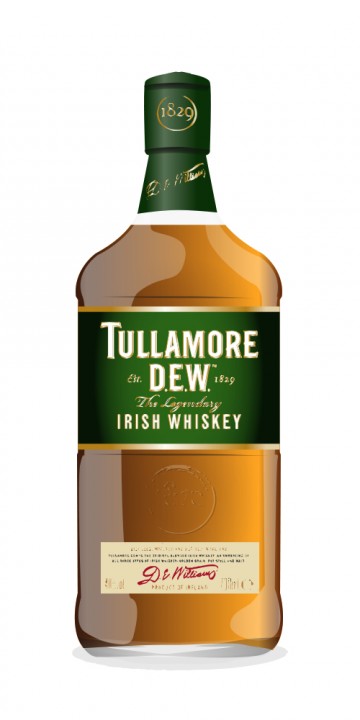 My wife wanted to make some Irish coffee so I obliged to pick her up a cheap Irish mixer. I couldn't recall ever having tried Tullamore Dew so picked up a bottle. While the wife was making her coffee I decided to pour a couple ounces in a glencairn to sip on this crisp Sunday afternoon while I listened to one of my favorite metal albums, Behemoth's "Zos Kia Cultas."
Nose: I mentioned the music because it matched the nose of this whisky. Metallic. There is a coppery, metallic note that is not what I would call pleasant. Looking beyond that, there are some floral/fruity notes. Pear, green apple, strawberry.
Palate: Hmm, not much going on here. Ah, there it is. Some light vanilla and fruit notes. It's almost like drinking a pinapple/strawberry fruit juice. Thankfully that coppery element is not here like it was on the nose. Refreshing, summer weather dram.
Finish: Some vanilla and strawberry finish things off quickly.
Overall: Just don't smell this before you drink it and it's not bad. Comparable to Jameson at about $3usd cheaper. I wouldn't get this again. For $4usd more I could get OGD 114. But for people not in bourbon country, this is a decent Irish mixer. Seems like it would go great in a fruity carbonated cocktail.
Thanks for the review. I've always thought about trying this.
A few years back I took over care of a patient from a colleague. He was Irish by birth. We were discussing whether it was ok to drink alcohol and I recommended writer's tears, at the time my favourite available Irish (having tasted it with my political mentor) of the few I had tried. My colleague (who had spent time in Ireland) recommended Tullamore D.E.W. - Thi sconversation played itself out over the months I was involved. After he died (expected, I'm a palliative care doc), his wife invited each of us over at separate times and gave us each a bottle, him the Tullamore, and me the WT. At the time I kind of thought it might have been more appropriate to give each of us a bottle of the other person's suggestion. After reading your review I'll keep the bottle I got...
Yeah, a typical standard Tullamore DEW batch would get low 70s from most people, +/- 5 points. At best a batch might rate 85 points. I've enjoyed standard Tullamore DEW a good bit at times, at other times not much. I found that my current somewhat rough around the edges 70s score bottle tastes better out of my Norlan glass. That glass cuts down on the flavours that are experienced. That trait seems to be an advantage with a slightly rough whiskey.
@casualtorture thank you for your review.