WhistlePig 10 Year Old Straight Rye Whiskey
Spicy and Addictive
0 589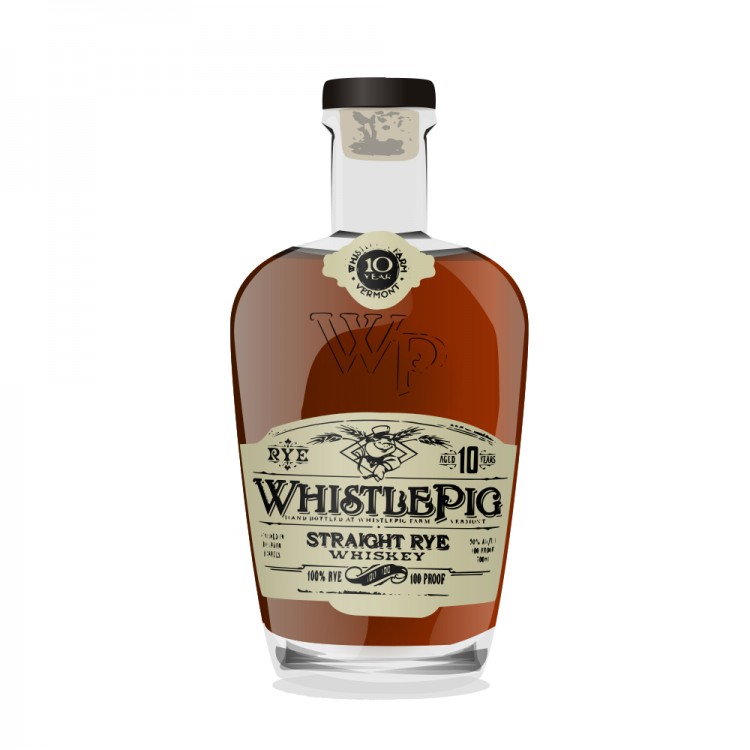 Nose

~

Taste

~

Finish

~

Balance

~

Overall

89
Distribution of ratings for this: brand user
This whisky is somewhat notorious for trying to disguise both the source of its origin (Canada), and the fact that they don't actually distill any of their product (yet). If you go hunting on the label, on the back, in the corner, is a small little statement "imported from Canada". Dave Pickerell, the former master distiller at Maker's Mark, a well known whisky consultant who has a love for rye, is at the helm of the Whistlepig operation - and this product has been a huge success. The hope of the Whistlepig farm (in Vermont) is to do a complete seed to glass process, growing their own rye, distilling it, and aging it.
This whisky is sourced from Alberta Distillers, like some other successful and excellent whiskies like Masterson's Rye. It is made from 100% rye, unmalted, - and, as the Alberta distillery does - this likely went in the barrel just short of 80% ABV, and came out likely above 80% before dilution. This shows the quality of the stuff that goes into the blends in Canada - typically a process with a "base" whisky which provides the bulk of the body and profile, and then this is "flavoured" with a stronger, perhaps spicier, whisky such as this one.
Nose: Oak, and rye - simple, and beautiful - strong off the nose, with some wonderful earthiness too. Caramel, orange, a bit of arugula...a very similar style to masterson's. Lots going on - vanilla starts to emerge, with some canola oil, tabacco, caramel, mint chocolate, star anise, a touch of smoke, and butterscotch - quite a wonderful and wide array of buttery and caramel notes. A bit of fruit, but it's not overly fruity - cherry notes are present. A few odd notes start to come out with time, which I don't like much - reminding me of ketchup chips (quite unlike anything else I've nosed). But, overall, quite good. 87%
Taste: Fairly sweet, with a sharp arugula-laced rye body (the arugula is interesting - I find it strongly here, in Masterson's, and in the Collingwood 21 Year old - all 100% ryes). There is a nice oaky underlying spice explosion (white pepper and cinnamon)- this is very, very enjoyable, and oak takes over towards the end. There is vanilla, too, wonderfully balanced in the palate. And, with all that, there are some nice, bright, floral notes hinting of lilac. 88%
Finish: Marmelade, caramel, black currant jam, cinnamon, and a bit of dry oak....and our arugula. It grows as you drink more, with more spice (cayenne pepper, clove) and more fruit (I find green apple comes out!)...and then woody notes like cedar start to appear. Very good body, spiciness, and sweetness. 93%
Intrigue: It's surprising to me how much it reminded me of Masterson's, but I am not suprised - they are both independently bottled from the same recipe and age of the same distillery. Whistlepig, though , is less intense - a bit woodier, and, perhaps darker - but less spicy, sharp, and refined with a bit less complexity and development. This is quite addictive stuff, and the more you have, the more you want. It's too bad that you can't get the stuff in Canada... 88%
Weighting the nose 25%, taste 35%, Finish 15%, and Intrigue 25% the overall grade is 89.