Arran Amarone Cask Finish
Whisky Club Meets in February: 3!
0 184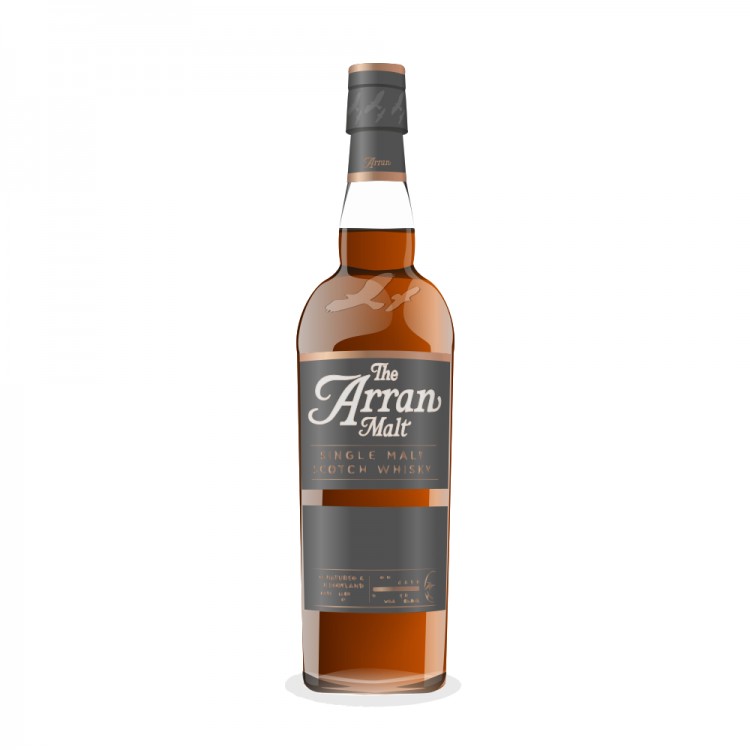 Nose

23

Taste

21

Finish

20

Balance

20

Overall

84
Distribution of ratings for this: brand user
My whisky club had met at Helvetica last week and I'd immediately jumped into the Campbeltown whiskies, followed shortly by my brother in law.
One of my whisky friends, who'd just finished Ardbeg Galileo and proclaimed it brilliant then started looking for another whisky to sample.
I suggested Aberlour Abunadh.
At this time the other two whisky club members come in and join us and we're ready to roll!
They start looking for their first dram and ask me what I think about Talisker. They're looking at the Talisker 10 year old to start.
I can only inform them that the Talisker 10 year old is in my opinion one of the best entry level single malts out there and that Talisker is one of my favorite distilleries.
They decide to give that a shot.
My brother in law grabs another Longrow 7 Year old Gaja Barolo Finish another try. God that's a nice whisky.
Now it's my turn!
I take a look at the Islands, encouraged by my friend's grabbing Talisker and see Arran Amarone Finish.
Hmmmmm
I've never had an Arran.
Today's the day to start!
The whisky comes out and it's a pinkish hue.
Weird. Very weird.
Let's give this bad boy a shot!
A sweet nose, very sweet.
It's got bags of honey, and heaps of fruit in it. I'm getting oranges, melons, grapes, raspberries, black currants, pears, almonds, and caramel.
Very sweet nose and you can definitely see the wine finishing influence on the whisky.
Time for a taste though.
More sweetness. But hints of bitterness.
Nice!
Honey, vanilla, grapes, cherries, cinnamon, dark chocolate, oak, and a hint of licorice.
A decent finish that is a little bitter with the dark chocolate making another appearance.
Not a bad whisky and one that I'm glad that I tried. I've never seen it for sell here in Australia, but I'd expect to pay $120 to $140 AUS for it, which isn't half bad all things considered.
I don't think this whisky is for everyone though, I think you'll either enjoy it or you wont. It might be a little too sweet for some people. However if you get a chance to try this whisky, I'd suggest doing so! It's a little bit different and a little bit interesting!
Find where to buy Arran whisky