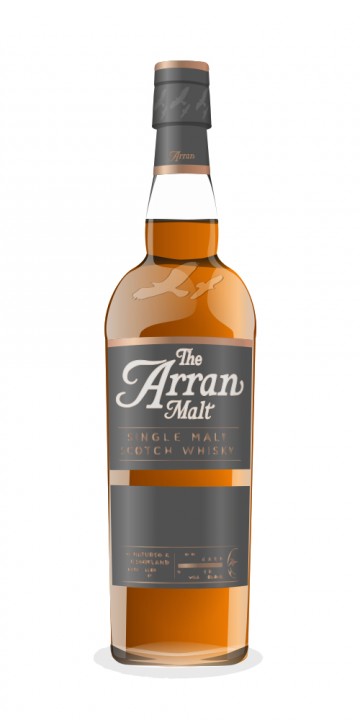 I thought I would go ahead and do this head to head while it's fresh on my mind. I'm not always into wine finishes, and the Arran Port cask was a bit of a letdown for me, especially when compared with their age-stated 10yo and (axed)14yo. But as I generally enjoy Arran I thought it was high time I gave the rest of these "cask finishes" a try. So tonight, I have sitting side by side in 2 different glasses, the Amarone Cask and the Sauternes cask.
First up we have the Amarone cask finish. "Amarone della Valpolicella" is a red wine made with partially dried grapes in Valpolicella, Veneto, North-east Italy. Rumor is that this is aged in bourbon barrels for 8-9 years then "finished" in the wine casks for 8-12 months. This is bottled at a commendable 50% abv. Bottle has been open for 2 weeks and is 90% full. Neat in a Glencairn.
Nose: The red wine is there front and center. Although I have never had Amarone, I imagine it is rich, dark and earthy. I get notes of dark grape skin, dark chocolate, pomegranate, ripe orange peel, a tad bit of vanilla, and an "earthy" note to round things off. Almost like wet, composted leaves (in a good way).
Palate: Much sweeter than the nose would suggest, as that earthy note is gone and the palate is much more fruity and sweet. Chocolate covered pomegranates and ripe orange peel, dried plums, raisins...ah, those chocolate fudge cherry cookies you get during the holidays. This is very chocolatey, fruity, and sweet. Very wine forward to be sure.
Finish: Milk chocolate and cherries finish things off with a faint cereal note towards the very end.
Overall: This is a rich, fruity, chocolatey dram. I think I should save the rest for fall weather. While it is very enjoyable, I think there is a tad too much wine influence on the palate specifically. I think the nose was spot on and well balanced, and then the wine notes just took things from there. I personally would prefer more Arran and less wine cask, but you're talking to someone who thinks Arran 14 was distilled by God so take that for what it is. This is darn good though.