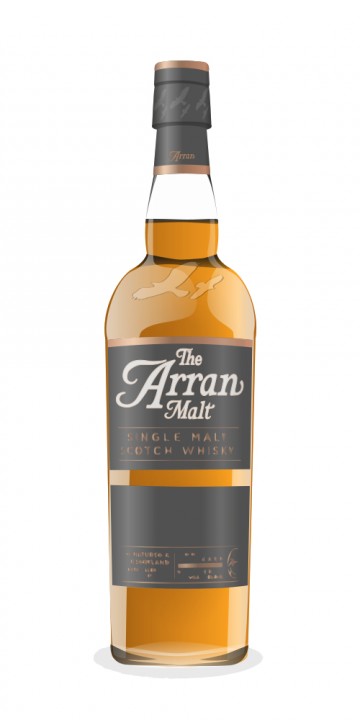 After a good palate cleanse, we now have the Arran Sauternes cask finish. Sauternes is a French sweet wine, and is made by grapes that have been afflicted by "noble rot," which apparently slightly raisins the grapes and brings out distinctive flavors.
Again, this is bottled at a commendable 50% abv. Bottle has been opened for only 2 days and is practically full, so that's why we're doing this one second as it has now have plenty of air time in the glass. Neat in a Glencairn.
Nose: Quite a unique experience here on the nose. Minty almonds...? I don't know how else to describe it. There is a fresh, mint chocolate note alongside something reminiscent of amaretto. Then we get tropical. Pineapple, mango, unripe apricot. Very bright. A unique transition and some unique flavors. That first minty almond thing though is just weird.
Palate: Wow, now we get VERY tropical. Pineapple, almonds, young mango, coconut. I can hear the Hawaiian Pahu drums. Then there is a bit of a white pepper/salt thing and some oak. I'm taking this to the beach with me. Bright and fruity with just a touch of salinity.
Finish: Vanilla and more tropical fruits round things off. I can see the sunset from the beach I'm drinking this on (I wish).
Overall: The nose on this is...weird. But the flavors on the palate just dance a lively tropical dance. I wish the nose didn't have that weird minty almond thing but I'll deal with it for the tropical vibe.
I'm going back and forth on this. The nose on the Amarone cask was very good, and the palate was good, albeit a bit too much of the wine influence for me. The nose on the Sauternes is not good, but the palate is better than the Amarone I think just due to the wine cask not overpowering the spirit. I think these are 2 very different whiskies. Amarone is a fall weather, rich, darker whisky, while the sauternes is something you'd take to the beach. They're both good, and I think it just comes down to whether you want something darker and richer or something brighter and lighter. It's amazing how just 8-12 months finishing in different wine casks gives you 2 completely different whiskies.