Blanton's Gold Edition
And they're off...
0 588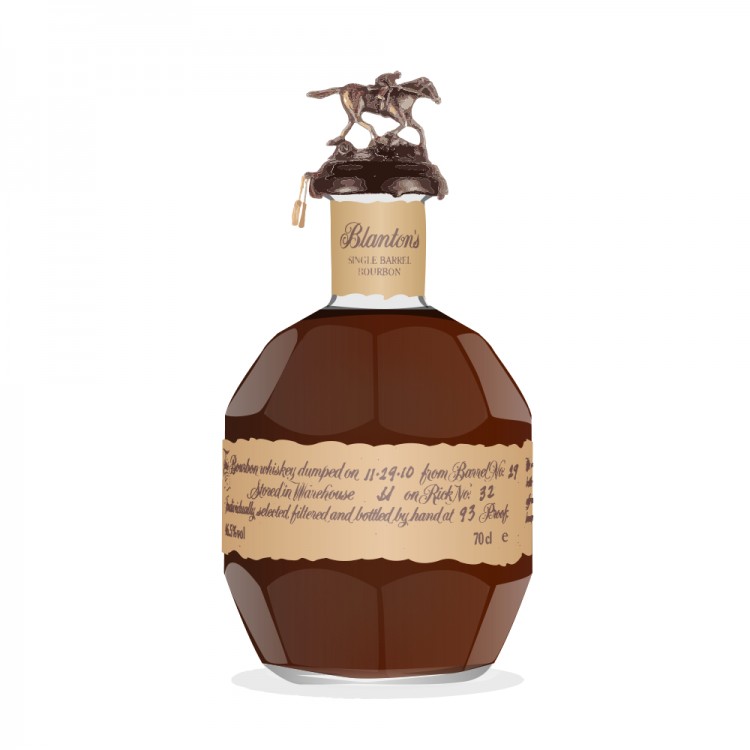 Nose

22

Taste

23

Finish

22

Balance

21

Overall

88
Distribution of ratings for this: brand user
Barrel 828 Warehouse H Rick #29 Bottle 86 Batch marking: B1426709:38J Dumped Sept. 19, 2014 51.5%
This is my first Blanton's expression. It carries no age statement but online research suggests it may be between 8-10 years old. The official website provides some interesting information:
Still Proof (new-make): 70% Barreling proof (newmake): 62.5% The staves were air dried 6 months Number 4 char Chill filtered
Apparently this is not available domestically (US), except in some travel retail stores. It is mostly found, I understand, in the European market, but the LCBO had it available in stores for what seemed like a week, tops.
I opened the bottle 8 days ago at a tasting. It was about 85% full and preserved with gas.
This expression is reviewed in my usual manner, allowing it to settle after which I take my nosing and tasting notes, followed by the addition of a few drops of water, waiting, then nosing and tasting.
---
Nose:
Neat – Soft Caramel, some vanilla, some fruity notes, then after covering I get some brown, Demerara sugar. A very typical bourbon profile and very pleasant. 22/25
With water – brings out the fruit a little and I get some ripe pear, and with time the nose becomes very fruity indeed. (22/25)
Taste:
Neat – A little thin on the mouthfeel. Vanilla and caramel, molasses, becomes fruity in the development. Very Smooth. Tasty. 22/25
With water (and 20-30 min)– The oakiness recedes and it becomes a little sweeter, very fruity. (23/25)
Finish: Dry, the oak is quite prominent, and lasts a long time. 22/25 Water shortens the finish and makes it sweeter and less oaky. (22/25)
Balance: Very balanced, drinkable whisky. Perhaps a little underpowered. 21/25
Score: Neat - 87 /100 With Water: 88/100
---
With and without water (just a few drops to a half dram) these are two extremely different whiskies. I normally don't add water to my bourbons but I did it just for the review and I discovered something extraordinary. There are few whiskies that transform so much with just a few drops.
In the end I think I prefer it with a little water, and I think this means I'll be experimenting with adding a little water to future bourbons I try.
Now if only they could have bottled this at CASK STRENGTH......
Find where to buy Blanton's whisky