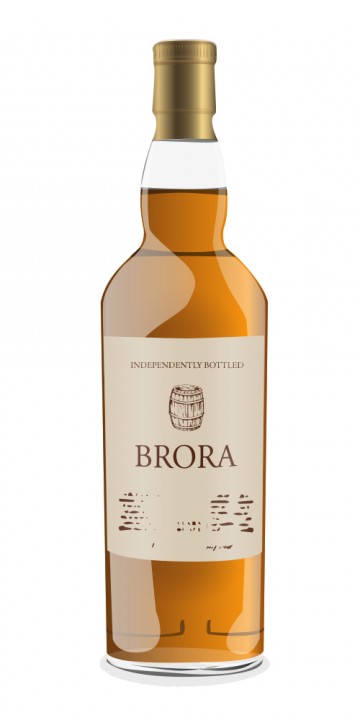 In many ways this specific bottle has been my "white whale." It has won a great deal of acclaim: whiskyfun gave it 94 points, Jim Murray gave it 97 points, and it won a gold medal from the Malt Maniacs in 2007 (which is high praise given the varied tastes of those gents). I was all set to buy a bottle back in 2009 . . . but I couldn't get my hands on one in time for my birthday. So, I settled for a bottle of the 25yo Brora released in 2008. And the experience (which you can read about in my previous review) really gave me pause about shelling out for this bottle. Obtaining a sample of this from whiskysamples.eu seemed like just the way to see if I truly wanted to spring for this bottle.
So one day in April I had a whole afternoon and evening to myself . . . and I decided to compare this particular 2005 Brora 30yo to my favorite 21yo Brora Old Malt cask. In the mix I included two other OB 30yo Brora's from 2007 and 2009, the 2011 32yo Brora, and the aforementioned 25yo Brora from 2008.
Very similar to the 30yo Brora from 2007, but with more coal, diesel . . . and now I am getting the zoo! My mind is transported back to the Cincinnati zoo where I went as a child to see the gorillas. I feel like I am in that gorilla section with the hay, feed, concrete, iron, and "animal body." This is miraculous! The peat is huge and powerful, but there is some fruit behind it . . . not the apples, peaches, and pairs of Clynelish . . . but something less sweet and . . . "honest." (that is for @hunggar) A touch of citrus (lemon) brightens things up. The hay-barn-stable is amazing. This is the most farmy nose of the night (and the most farmy Brora I have nosed). I now get memories of riding horses in Michigan . . . that horse stable smell is delightful! Now I am putting the "Brora-mustard/sulfur" tone against the OMC 21yo: The 21yo has a slightly higher pitch (tenor) compared to the baritone of the 2005. This has slightly more mildew and old horse dung compared with the 21yo (in a good way). It is just more animal (gorilla/horse) than anything else. However, while it has the highest peat content of the night, it is closest to the 21yo in my opinion. The 30yo from 2007 is slightly more tame while the 21yo OMC has slightly harsher edges while lacking some of the power.
This might be one of my favorite noses EVER! It is so muscle bound and powerful. There is hay, animals (horses, and gorillas) coal, diesel, peat, smoke, fruit, wood, wax, and that unmistakable "Brora" tone (mustard/farmy/sulfur). When I compare it to and Laphroaig this has TONS of midrange going on.
Lovely sweet peat: delightful sweet tones of peat, fruit, wax, smoke, and mustard. Tons of that Brora-mustard-thing going on. There is that sour tone of mustard I associate with Brora. Very midrange with tons of flavors.
Huge wave of peat . . . then a breath . . . and now more undulating waves of peat, wax, leather, hay, farm, mustard, grain, barley, burning fire pit – this is huge and long. This is also all midrange in a wonderful way. It doesn't have the deep bass or the soaring treble that really good Ardbegs can achieve. Brora is all about midrange, peat, farm, and that mustard-Brora-thing. It is utterly unique and amazing. This is an extremely powerful 56.3% that hold nothing back.
This is without question the biggest and baddest Brora of the night (or that I have ever tried). Tons of muscle and peat mixed with that mustard tone, wax, fruit, honey, coal, and diesel. However, it is the animal tone that really tips the scale here. It makes this totally unique in the single malt scotch world.
I love the age, the ABV, and the name. However, the bottle shape is not my favorite (nit picking here) . . . and I hate supporting Diageo. This is the one category that brings my score down a bit. If I liked the "aesthetic" a bit more this bottle would get a 98 from me.
I have passed on buying this bottle twice . . . and I totally regret it. For $400 this was a deal. At today's prices ($1,000 + ish) . . . who knows . . . I might save up enough to buy it some day. It might "almost" be worth it. As you can see I am scoring it 97 (after only one small 30mL sample . . . I know) which is equal to the comprehensive score I gave to the 21yo Brora Old Malt Cask (which holds a special place in my heart). These two bottles are really neck-in-neck for me. On liquid quality alone this bottle wins. This 30yo is bigger, darker, deeper, and simply has more of everything . . . except for that mustard-tone which is bigger in the 21yo. However, that 21yo OMC has an intangible factor that can (on a good night) catapult it into true greatness. The 21yo has more sharp edges, but can "hint" at things more. This 30yo from 2005 is totally present: everything hits you at once. All pistons are firing. For something a bit more subtle, elusive, and intriguing go for the 21yo OMC. For something that is full-steam-a-head power, complexity, age, big peat, big farm, and awesome funk . . . this is your Brora bottle. If I had more liquid to contemplate the score might go even higher.
@MaltActivist – other people with deeper pockets than me getting their hands on the few remaining bottles before me is my deepest fear ;-) I have been sitting on this review for almost a year. But I figured it was finally time to let the bottle go and put the review out. Many other reviews have been log jammed behind this one.
My the realization is that pursuing this "white whale" anymore could be my undoing. Every time my financial ability to obtain this bottle goes up, the price seems to climb just beyond my means. I am simply going to relax and let it go . . . if the stars align and a bottle (and the $$$) happens to present itself I will not hesitate again. Until then I am fatigued by the 6 year quest.
But to your question about the "bold" words. All you have to do is type "<" and "b" and then ">" (without spaces) to begin and "<" then "/" then "b" and finally ">" to end the bold section.
Obviously I can't type them all out or it will just "bold" the word between.
@Victor, how to you get your "big bold break" in your reviews of late?
@Nock, this is a lovingly executed review. I feel like I am tromping into church with mud all over my shoes just commenting on this. You have generated a sacred space here.
Reading this makes me eager to review that sample of the Old Malt Cask 21 yo Brora which you so generously gave me. I remember from my first tastes of it that it was one of the most enjoyable and impressive malts which I have ever tasted. It still is right among the top few for me, and remains my personal favourite among all of the whiskies which I have sampled from your collection.
Thanks a lot for doing the side-by-side comparison of the six different Broras. That is very illuminating and very helpful.