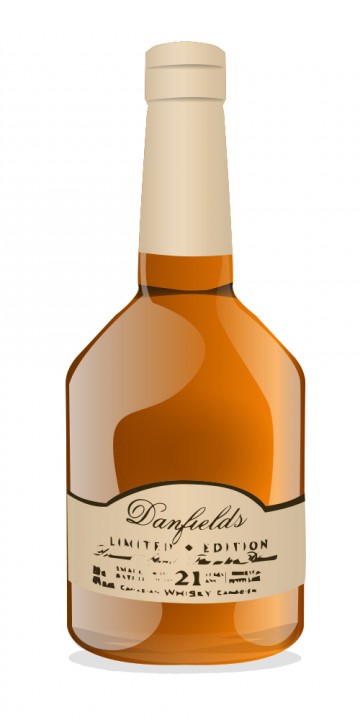 I know very little about Danfield's 21, I do know that it was a brand that was once produced at the Schenley distillery in Québec and that it is now produced in Lethbridge Alberta at the Black Velvet distillery. It seems to be one of those classic Canadian whisky brands like Gibson's Finest, which has been bounced around from home to home.
This sample is courtesy of @paddockjudge, I had the pleasure of being the recipient of a small box containing a plethora of mysterious elixirs decanted by the man himself...who knows maybe one of them contains AP30 and ginger ale.
Nose: Brown sugar, vanilla and spices that seem to stem from the wood so cinnamon and a bit of nutmeg. Loads of oak, like a carpenter's shop, a little green bell pepper and paraffin, it's a bit nippy.
Water softens the nose, bring in some honey and increasing the vanilla.
Palate: Oak & cedar, warm caramel with loads of brown sugar and baking spices. Grapefruit pith, white pepper and a touch of wax. Surprisingly hot for, 40%. Nice mouthfeel.
Water brings out cardboard, more spices, reduces the bitterness a touch.
Finish. Is medium length, that sweetness you can only get from corn whisky,some astringence from the oak, a little cardboard, and chili pepper not as sweet as on arrival,
I feel like this is a perfect representation of a classic Canadian whisky, I found the bitterness a bit off putting at first but with time it seems to bring equilibrium to this blend. The wood notes are interesting because they push into the cedar/tobacco like territory. This isn't my favorite Canadian whisky but it's hard to deny that this is a well crafted gem in a style that doesn't seem to be as popular.
@cricklewood, nice review!...and it is a classic Canadian style, the likes of which we see very little these days and possibly may not see again, a 21 YO that shows its age.
....the AP30 and Ginger is safely stashed for a fellow Connosr. You must share the same birth date with me to get a dose of this one.