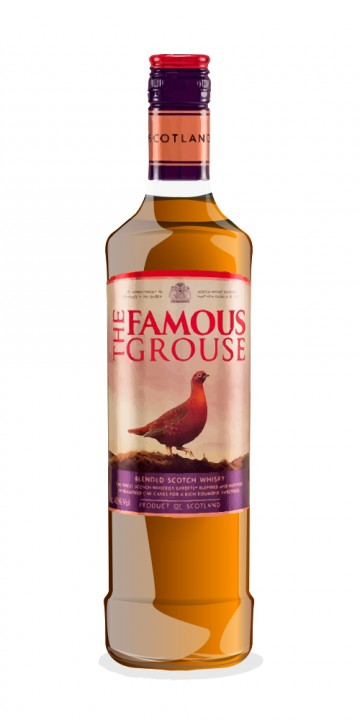 This is an abbreviated version of my most recent blog post
Bottom shelf blends don't generally garner much attention in the blogosphere. We're passionate about our favourite single malts, peat levels, cask selection and so on. We may be doing the casual drinker a disservice though, since blended scotch whisky accounts for approximately 85 to 90 percent of all scotch whisky sales worldwide.
However, I'm nothing if not selfless, so I've decided to swallow my pride (and a lot of whisky) in order to help my ten or so readers make more informed choices, regardless of how much they're spending.
Tasting notes
Nose (undiluted): barley, red grapes, honey, light brown sugar
Palate (undiluted): medium-light body, malt, tea-biscuit-ish, honey, faint red grape notes
Finish: medium length, honey, a very faint hints of smoke and milk chocolate
Adding water did not change much about this whisky. The sweetness is cut a bit, and the milk chocolate notes become a bit more apparent, but this isn't any kind of flavour bomb. I wouldn't recommend adding water to this whisky. The Famous Grouse is light enough to mix in a highball, or a Rob Roy, but it doesn't make you sit up and pay attention the way some of the better blends, like Compass Box, do.
The Famous Grouse won't change your life, but it is a solid introduction to scotch whisky. The single malt component is present, but it certainly doesn't dominate the blend. There is nothing unpleasant in the Grouse, but it didn't blow me away either. Much like Grant's, it did improve a bit after being opened for a month or so.
The quick hits from @Nozinan prompted me to reflect on whether I've ever had a blend I really liked.
Nope.
---
(I'm considering only true blends here, not blended malts. I guess the best I ever had was JW Black. The rest have all ranged from "garbage" to "boring." From what I can tell, it'll take something like TINALW to change my tune.)
Yeah, I've had some Compass Box stuff. None of the high-end stuff, though, except for Flaming Heart. Some quick hits from memory:
•Flaming Heart is excellent, but's not a true blend.
•Peat Monster is decent, but it's not a true blend.
•The Lost Blend is decent, but it's not a true blend.
•Great King Street is OK—I forget which version I tried at a tasting once—but I think JW Black is better.
•I think I also tried either Asyla or Hedonism once and either way, meh.