Jameson Crested
Middle of the Road
0 080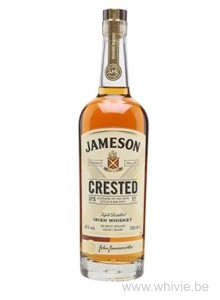 Nose

~

Taste

~

Finish

~

Balance

~

Overall

80
Distribution of ratings for this: brand user
I tried the Jameson Crested Ten before: this is the successor, simply named Crested. It is composed in the same fashion, meaning longer matured Jameson (older than ten years, one of the reasons why the Ten disappeared from the label) with a lot of pure pot still in the mix. More than half of this matured on sherry casks. It first appeared (in its Crested Ten guise) in 1963.
Soft but very creamy nose on citrus, heather, honey and coconut. The grain in the mix is clearly discernable, as is the sherry matured whiskey. Oats with a leaf of mint on the one hand, spices from the oak and yellow fruit on the other. But all of it very soft, to be honest.
The arrival is very light, almost watery, which is a bit of a disappointment after the creamy nose. Sweet and spicy, sherry and yellow fruit again, joined by some spices like cloves and cinnamon. Citrus becomes big. Reminds me a bit of bourbon, with a floral edge from violets. Some toasted oak.
The finish is medium long on spices and sherry.
A rather middle of the road James, I have to confess. Does little for me.
Find where to buy Jameson whisky