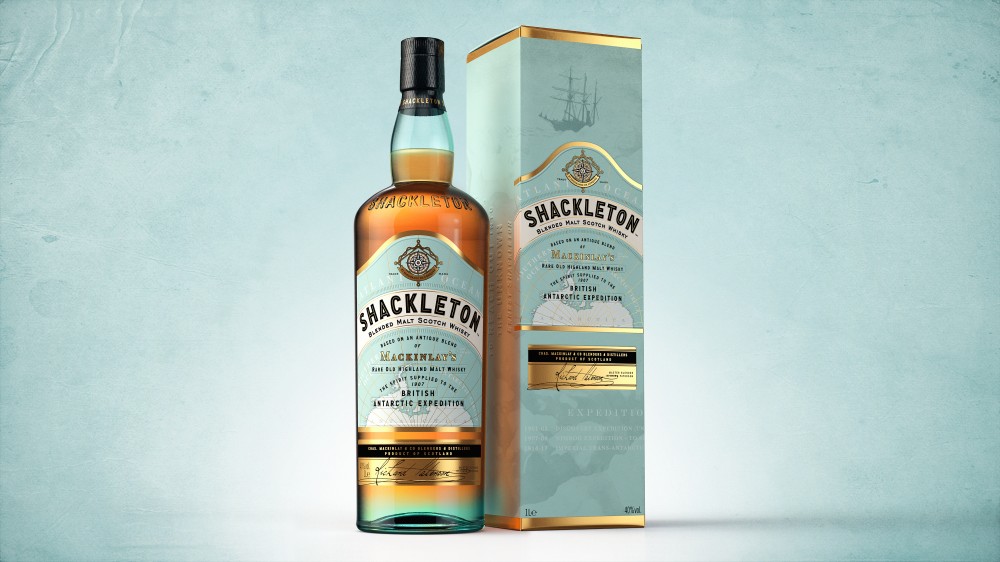 "Shackleton's mission was to save his men from Antarctica, my mission is to save Antarctica from men." The words of Tim Jarvis at last week's London press launch for the new Shackleton Blended Malt, arranged by the Mackinlay's brand owners, Whyte & Mackay.
It's not unusual at this type of event for the organisers to wheel out a speaker with a tenuous link to the product but full credit has to go to Whyte & Mackay for putting together an enthralling launch which was also attended by Shackleton's granddaughter Alexandra.
We were treated to an inspiring talk by Tim, a notable environmental scientist, campaigner and gentleman explorer. Tim had recreated Ernest Shackleton's heroic rescue journey from Elephant Island to South Georgia Island using the same equipment, clothing and transport that Shackleton had in 1916. His tale of courage in the face of adversity was truly fascinating but what was even more impressive for us was Tim's reason for doing it.
Tim Jarvis says that he used to give Al Gore style lectures on the environment but found that often people just weren't listening. What he discovered was that by talking to people about his perilous journeys of exploration he could get their attention and deliver his environmental message by stealth.
Part of his journey retracing Shackleton's route involved walking across three glaciers – except that a little over a hundred years later Tim could only walk over two – he had to wade through the third glacier because the ice had melted, a stark reminder of the effects of climate change.
We'd like to congratulate Tim on his excellent talk and we'd also like to applaud Whyte & Mackay for supporting his work. It was their sponsorship that made the journey possible. He is now global ambassador for Mackinlay's and with their support will be taking his message around the world at events like the one we attended.
If you would like to know more about Tim Jarvis and his important work you can visit his website timjarvis.org.
"But what about the whisky?" we hear you ask. The new blended malt is an homage to Ernest Shackleton who famously ordered 25 cases of Mackinlay's whisky to bring on his journey across Antarctica. A blend of Highland malts with a robust profile, full of fruit, fudge & spice with a good texture and a delicate back note of peat, the whisky will retail at around £40 (approximately 50 USD).
At the preview tasting we were served Shackleton Blended Malt neat and over ice. The ice dulled some of the flavours giving an unbalanced prominence to the peaty notes so our preference was for the neat pour.