Macduff 17 Year Old 1973 SMWS 6.9
Lemon Tart
1 086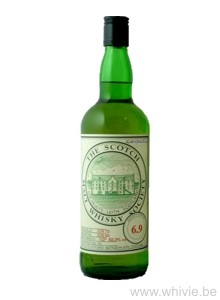 Nose

~

Taste

~

Finish

~

Balance

~

Overall

86
Distribution of ratings for this: brand user
Macduff, founded in 1962, is one of Scotland's youngest distilleries. It was built specifically to produced enough malt for the famous blend of Willam Lawson's. But she also markets her malt as single. For the longest time this was under the label Glen Deveron, but recently that was changed to simply The Deveron, named after the river from which the distillery takes her water for production. I will be trying an oldie today. An oldie in the sense that it has spent more time in the bottle by now than it did in the cask. In 1990, this was the 9th cask from this distillery that was bottled by the Scotch Malt Whisky Society. The ABV is a whopping 58.3%.
When I sniff it at first, I am not even reminded of whisky, but of a dessert wine. Very sweet on honey, oranges, vanilla, marzipan and lemon tart. Some cherry candy sweetness emerges. But still mouthwatering (litteraly), which is a good sign.
Despite the high ABV, it rolls smoothly across the tongue without burning. The sweetness of the nose returns, but is heavily supported by a grand spiciness. It has some bitterness as if from grapefruit, bringing balance to the whole. From the second sip on, it even turns a bit exotic with pineapple and vanilla.
The finish is long, warm and sweet.
Lovely Macduff. The nose was quite ordinary, but the palate and finish are very nice. A bit old school, even, but that might be my imagination.
Find where to buy Macduff whisky