Pappy Van Winkle's 23 Year Old Family Reserve
Fine bourbon indeed
0 688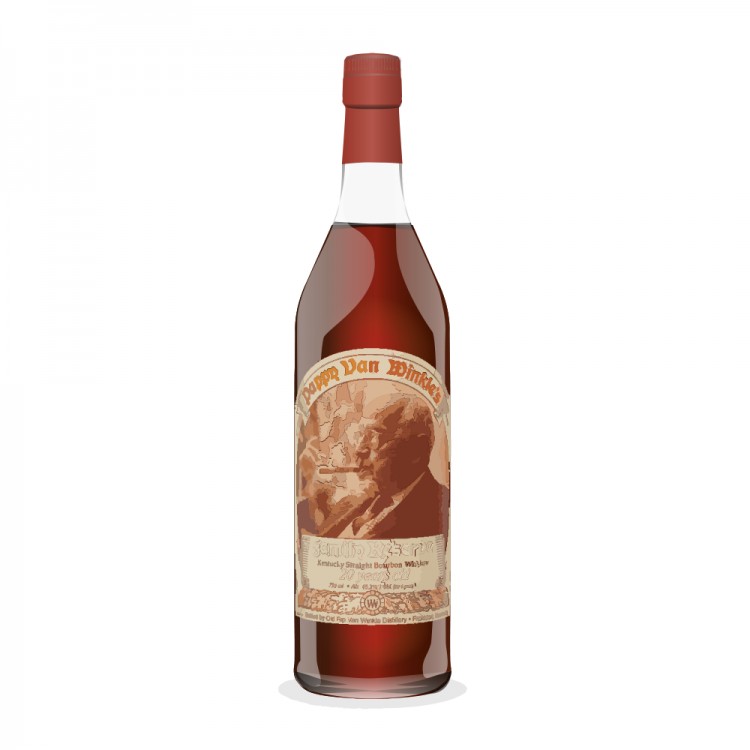 Nose

~

Taste

~

Finish

~

Balance

~

Overall

88
Distribution of ratings for this: brand user
For my 150th review on connosr I picked something truly special: Pappy Van Winkle Family Reserve 23 years old. Through luck and the generosity of a good friend I was able to obtain a bottle in early 2014 and it would have lasted longer had I not been generous myself in giving some of it to my fellow whisky maniacs who were begging me for a sample. Indeed, we do not get to see much of Pappy in Europe, which makes their reaction understandable.
Nowadays, the Pappy Van Winkle Family Reserve label is produced at Buffalo Trace distillery in Frankfort, KY, but of course that used to be different in the old days. The Van Winkle family's involvement in the bourbon industry began in 1893 when Julian P. "Pappy" Van Winkle, Sr. started as a traveling salesman for W.L. Weller and Sons. He and a friend, Alex Farnsley, eventually purchased the A. Ph. Stitzel Distillery that produced bourbon for Weller. The two companies were merged to become the Stitzel-Weller distillery that opened in May 1935. Pappy who at the time was 61 had a heavy influence on the operations at the distillery until his death at the age of 91 in 1965. His son, Julian, Jr. took over operations until the distillery was sold in 1972. After selling the distillery, Julian, Jr. resurrected a pre-prohibition label, the only one to which the Van Winkles kept the rights, called Old Rip Van Winkle. He initially used stocks from the old distillery to supply his brand. In 1981, Julian Jr.'s son, Julian, III took over the Old Rip Van Winkle Distillery Company, and his son, Preston, joined the company in 2001. Since 2002, the Van Winkle brands have been distilled and bottled by the Sazerac Company at the Buffalo Trace Distillery as a joint venture with the Old Rip Van Winkle Distillery Company. These tasting notes relate to bottle #E-2832.
The nose is lush and fruity with an initial burst of alcohol. Based on what I had heard about this bourbon I braced myself for a wood spice attack, but though the oak was there it was far from overpowering, just sweetly spicy. Instead, vanilla, marzipan and plenty of orange peel were at the forefront, followed by honey, a delightful maltiness and a touch of ginger as well as nutmeg. Wonderful! Adding water decreased the intensity of all the flavours.
The palate is full-bodied and rich, yet very smooth and rather dry. Honey and ginger are back, together with vanilla fudge, cinnamon and hints of dark chocolate. With water the dryness disappears but is replaced with wood spice.
The finish is long and warming. Wood spice mingles with sweet vanilla flavours. Hints of oranges and honey round this off.
Did this live up to my admittedly high expectations? The nose and finish certainly did. I found the nose to be lush, rich and sweetly spicy – in short: sheer pleasure. The palate, on the other hand, was a bit weak – despite the high ABV – and rather dry. In my opinion this should be enjoyed neat as water does not add to the experience. Thus, and to sum it up, I did enjoy this bottle tremendously but I might not do my utmost to try and secure a second one.
Find where to buy Van Winkle whisky