Pappy Van Winkle's 23 Year Old Family Reserve
Worthy of the Hype
0 096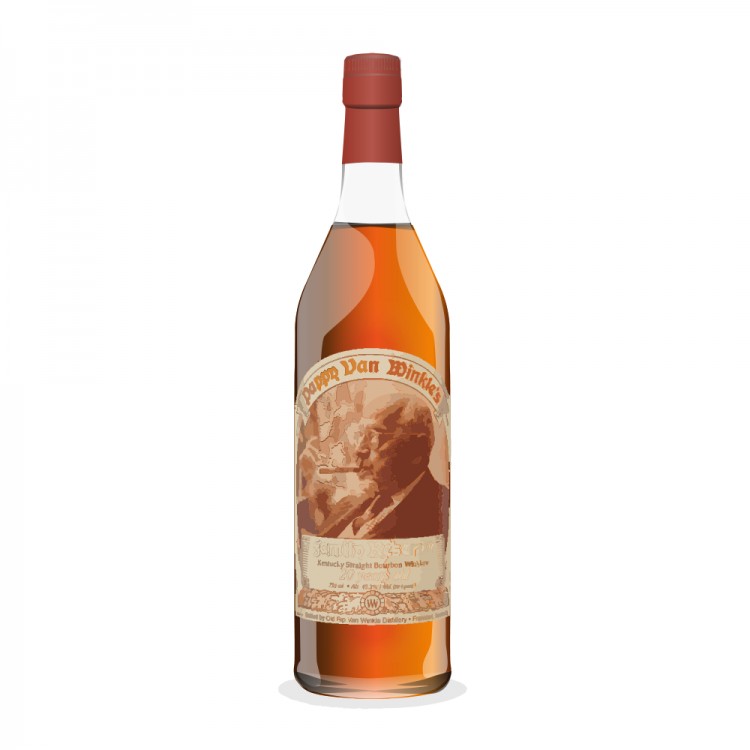 Nose

25

Taste

24

Finish

23

Balance

24

Overall

96
Distribution of ratings for this: brand user
So this is a whiskey about which there is a crazy cult status. I'm already a huge fan of the Van Winkle Family Reserve 13 Years Rye, and other Van Winkles haven't quite hit that spot. But when I hear people say the VW are overrated I completely disagree. They are sublime whiskeys.
And this is a special one.
Colour is clear tawny chestnut brown and oily in the glass.
Nose is big brown muscovado sugar, caramel, deep maple sugar and then that classic Van Winkle characteristic of the wheated mash, which gives you that rich grapey white wine vinous aroma and flavour, like a Sauternes or a sweet wine or a cognac (which I also find in WL Weller 12 Year Old - same mash bill). The ageing has done wonders for this. Lots of vanilla oak, stone fruits and a slight dusting of chocolate and some aged wood. It's more complex than the VW 13 Year Rye (but less bright and perky). Getting a depth of floral, toasted coconut and alluring perfume. Could sit and smell this all day long.
Taste is very very smooth. No burn, it just floats over the senses, and builds some warmth on the back of my tongue and flushing my neck. Maple syrup, caramel, muscovado sugar, little coffee granules, vanilla and toffee, and more of that delightful Sauternes vinous grapey character, almost like a cognac.
The finish is long, stone fruits, sweet, maple syrup, vanilla, cognac, and it's here that a slight flaw begins to show. As you sit and let the flavours settle there's a slow build up of slightly too old bitter wood. It's also a bit green sappy. Like licking a too old wood barrel but with a bit of green tree sappiness. To some it wouldn't necessarily be a flaw and I hesitate to call it this, because the rest of the flavours and aromas are so sublime, but it's definitely a point or two away from perfection.
This should not take away from what is probably one of the greatest, most sublime and complex whiskey's I have ever tasted. I still maybe shade the 13 year rye over this, but it's remarkable for its smoothness and softness on the palate, and then a delightful range of rich perfumed flavours.
Oh if only I could buy a bottle without paying $2000.
Find where to buy Van Winkle whisky