Ardbeg Corryvreckan
L11 279 11:44 6ML
0 294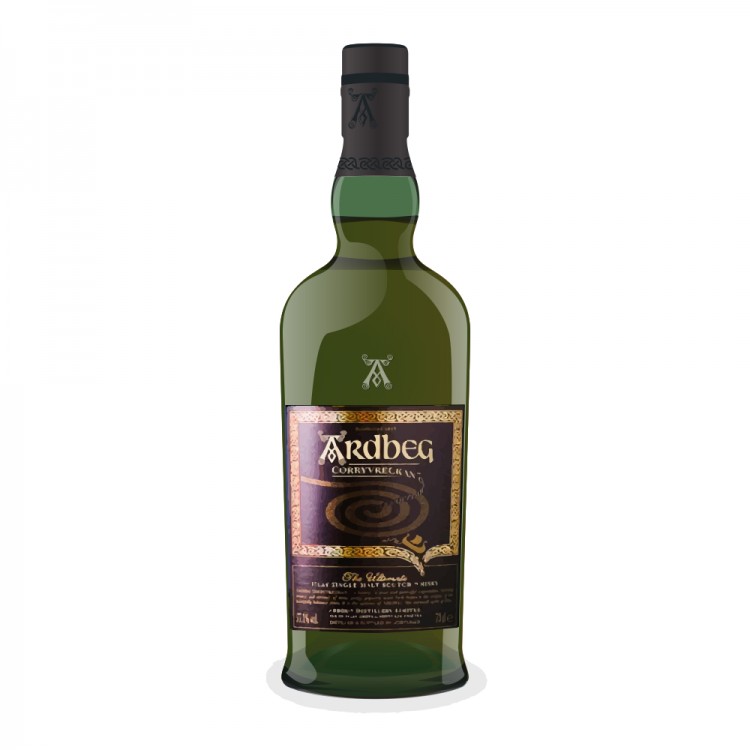 Nose

~

Taste

~

Finish

~

Balance

~

Overall

94
Distribution of ratings for this: brand user
Bought and opened in Virginia 9/15/2013 (Yes, they have Corry bottles from 2011 just now on shelves here in Virginia) Tasting along side L9 231 and a bottle of Uigeadail L13 058 for reference on 9/16/2013,
Nose: Strong lemon at first. Much more "soaring" tones here then the L9 bottle. A slight sour note that the old L9 doesn't have . . . did the sour note disappear? Or is this just pumped up lemon peel? There is a similar formaldehyde note . . . but there is a surprising lack of depth! Where the L9 had all this dark rich earth and peat bog this L11 is extremely strong lemon peel with a slight base of peat. Now I am getting those same spicy oak notes that I am associating with European oak. Very nice. Compared to the L9 this is a strong tenor. After some time (and air) I am really picking up on some nice diesel tones behind this huge lemon. Slowly I am drawing out the earth and peat bog from the L9. Wow I just got a hint of that bittersweet chocolate (just for a second). This is quite remarkable: basically, all the colors from the L9 are here; they are just arranged in a slightly different way. With time . . . I actually think I am picking up on more in this new bottle then in the old L9. I think I am getting some Indian spices here . . . crazy! It just really takes time. And after more time I am back to enjoying the L9 . . . it really is an "in the moment" type thing. Needless to say, both are highly enjoyable.
Taste: Lovely sweetness, then balanced out with lemon . . . now peat and sea salt.
Finish: Huge power . . . wave upon wave of undulating peat fire, smoke, peat embers, burning oak logs . . . a fresh Corry is a muscle bound power house! I love it. It does start much stronger then the L9. But does it last longer? Difficult to tell.
Balance, Complexity: Very complex. I am actually surprised. At first I thought it was a far less complex batch then the L9, but with time this 2011 bottle showed it carries the same DNA. The balance of the lemon was a bit off.
Aesthetic experience: This is a fantastic bottle. LOVE the near 100% British proof at 57.1%. This is probably my ideal ABV for Ardbeg (mainly because it doesn't come at 70%!) My only dislike is the lack of symmetry on the label (where the whirlpool drags the ship, name, and boarder off the side. I just prefer the Uigeadail label more.
Conclusion – I really liked my first bottle of Corry from 2009 a great deal. I have tried a sample of @Victor's bottle (different batch also from 2011) that was very similar to this batch. I think the DNA has been extremely consistent - more so then Ardbeg TEN or Uigeadail! The L09 was more complex, but these L11's are still highly enjoyable for me . . . and I think I like them more then a standard Uigeadail bottle. Something about the European Oak spice is more up my alley then sherry casks (which is American Oak).
I know many people morn the loss of the Airigh Nam Beist . . . but I would much rather be drinking this then the Beist. But that is just my taste - and this is a totally different "Beist"
Find where to buy Ardbeg whisky