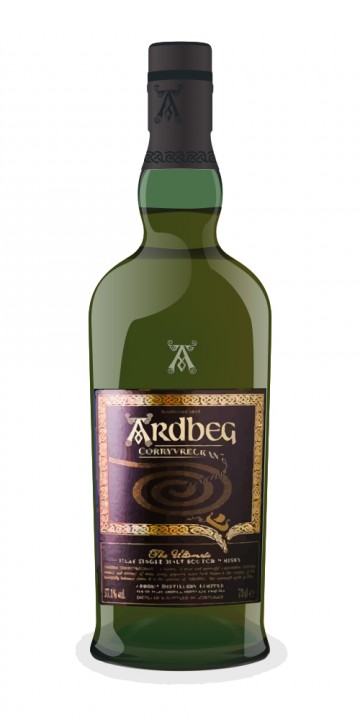 It's tough to find reliable information on what types of Casks are used to mature Corryvreckan, but the Ardbeg website informs the reader that ex-bourbon casks and new French oak casks are used. There are also rumours of ex-burgundy wine casks from France being used too (according to The Whisky Exchange blog).
Tasting Notes
Nose (undiluted): big, earthy Ardbeg peat and smoke, a fruity aroma of dark cherries, a touch of vanilla, and some oak
Palate (undiluted): very rich and oily, lots of cherries, thick smoke, a touch of brown sugar, oranges
Finish: long and lingering, cinnamon, cloves, cigar smoke, toasted oak, dark chocolate, dark cherries, and some black pepper
Tall tales about raging whirlpools are unnecessary here. This is an excellent whisky. It's big, it's bold, and incredibly balanced. No element dominates, and they're all very clear. I'd heard great things about Corryvreckan, yet this still exceeded my expectations. I have not added water to this whisky once. Maybe that's negligence on my part, but I've rarely found a whisky that I liked better with water added.
It's a shame the pricing in Ontario is so crazy, because I'd have this on my shelf more often than not. Corryvreckan is more reasonably priced in Alberta and in pretty much any other jurisdiction in the world, so I have no qualms recommending it.
Actually no. What I am looking for is the bit just after that. Here is a bottle code from a recent good batch I have enjoyed: L67890 03/04/2017 17003407 17:39
The key is the bit in the middle "03/04/2017" That tells you the 3rd day of the 4th in 2017 it was bottled.
I also really like: L68291 04/05/2017 17004611 08:03
This one was bottled one moth later (4th day of the 5th month). I wonder if they are from the same vatting of casks (batch) or if they are different batches. I know in the early 2000's it was very common for Ardbeg to mix a big vatting of many casks and then pour out bottles from that "batch" as orders came in. So you could have a bottle date on an Uigeadail that was a month different, but from the same "batch" or vatting of casks.
My guess (only a guess) is that Ardbeg is far busier these days with far more demand. I would doubt that they are leaving liquid in a vatting tank for a month. But who knows?
@Nock My open Corry is:
L70173 16/03/2018 18001955 09:35
I like it. but I have absolutely nothing to compare it to.
My bunkered bottle is:
L11 243 12.07 6ML 11102055
What do you suppose that means?