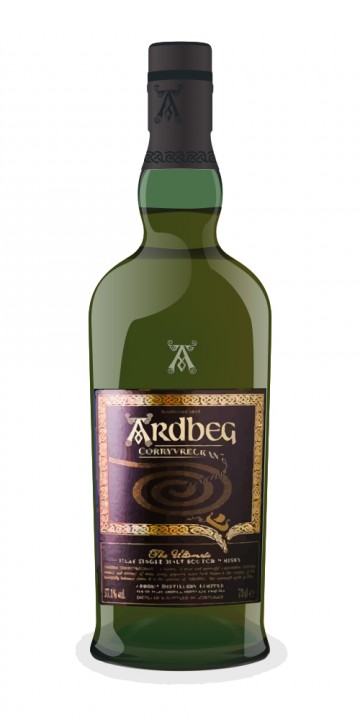 It's tough to find reliable information on what types of Casks are used to mature Corryvreckan, but the Ardbeg website informs the reader that ex-bourbon casks and new French oak casks are used. There are also rumours of ex-burgundy wine casks from France being used too (according to The Whisky Exchange blog).
Tasting Notes
Nose (undiluted): big, earthy Ardbeg peat and smoke, a fruity aroma of dark cherries, a touch of vanilla, and some oak
Palate (undiluted): very rich and oily, lots of cherries, thick smoke, a touch of brown sugar, oranges
Finish: long and lingering, cinnamon, cloves, cigar smoke, toasted oak, dark chocolate, dark cherries, and some black pepper
Tall tales about raging whirlpools are unnecessary here. This is an excellent whisky. It's big, it's bold, and incredibly balanced. No element dominates, and they're all very clear. I'd heard great things about Corryvreckan, yet this still exceeded my expectations. I have not added water to this whisky once. Maybe that's negligence on my part, but I've rarely found a whisky that I liked better with water added.
It's a shame the pricing in Ontario is so crazy, because I'd have this on my shelf more often than not. Corryvreckan is more reasonably priced in Alberta and in pretty much any other jurisdiction in the world, so I have no qualms recommending it.
@Nock My open Corry is:
L70173 16/03/2018 18001955 09:35
I like it. but I have absolutely nothing to compare it to.
My bunkered bottle is:
L11 243 12.07 6ML 11102055
What do you suppose that means?
@Nozinan That bunkered bottle is from the old system of bottle codes. That was the L=year. So that "L11" = 2011 and 243 = the 243rd day of 2011. OR August 31st, 2011.
I had a bottle from L11 279 (or the 279th day of 2011 OR October 6th 2011) that was really good. There is a possibility that those are both bottled from the same vatting, but I am not sure. If it is then it should be a very good bottle that I rated consistently in the low 90's (91-95). I think my average score for my bottle was a 93.3.