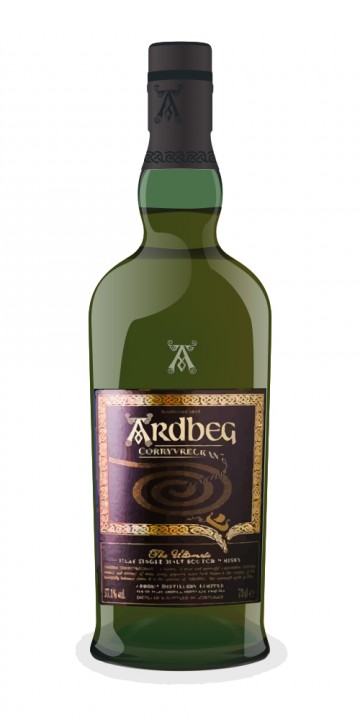 The reviewed bottle has been open for 9 months and is 90% full
Nose: sharp bitter peat, a little sour peat, moderate smoke, lemon, strong brine. This 9 month open bottle has lost some oomph but is still strong. This is a very good nose, especially after 10 minutes of air in the glass. Water added raises the pitch, brings out sweetness, and merges the flavours. With water this is OK, but much of the beautiful complexity is lost. Score: 22/25
Taste: heavy sourness and lemon in the mouth, which overpower and overshadow the peat, smoke, brine, and malt. This is not very good now, and is even worse--more sour--than it was when the bottle was first opened. Water added merges the flavours to a lemon-tinged black licorice. With water this is very different but still not good. Score: 17/25
Finish: it doesn't get any better by waiting, until the taste is all gone. With water added the licorice finish is shortened and then it just fizzles out. Score: 17/25
Total Sequential Score: 73 points
Strength: very strong flavours throughout. Score: 23.5/25
Quality: good to very good quality of all of the flavours. Score: 21.5/25
Variety: the overwhelming sourness narrows the range of the flavours available to be tasted. Score: 20/25
Harmony: very good in the nose; not good in the mouth. Score: 16/25
Total Non-Sequential Score: 81 points
Comment: my first reviewed bottle of Corryvreckan from Batch L11 012 was @Nock's least favourite known batch of Corryvreckan. This second reviewed bottle of mine, L13 240, is @Nock's second least favourite known batch of Corryvreckan. My bottle of L11 012 got a LOT better after much air exposure (8 months), whereas this bottle of L13 240 has gotten a lot worse with air exposure
I am actually quite surprised at how bad this bottle tastes to me now, because my memory from first opening this bottle was more of a whisky scoring at least 86 points. The bottom line is CAVEAT EMPTOR-- read reviews and pick your batches of heavily peated whisky carefully
This L13 240 Corryvreckan is one more example of a very good nose and a not-so-good palate. It would not surprise me if this one were also a case of "blending by the nose alone". Distillers and Blenders, NEWSFLASH: MANY whiskies do NOT taste he way they smell. You need to taste them ALL--in your MOUTH
77 point whisky is still very drinkable, but Ardbeg Corryvreckan can and should be much better than is Batch L13 240
@Victor, a slight correction. THIS (L13 240) is the worst Corry I have tried. In my "officially" review I gave it an 82. The L11 012 is second worst which I reviewed at 86 (I believe you gave it 90 or so by the end).
Yes, I was heart broken when you told me that this was the "back up" batch you had. It was horrible. Looking back on the few notes I took of this one (I only scored it three times). I scored it 83, 84, and 81 (in that order). My lowest score was always the balance/complexity. And I did note that the finish really turned awful after only 4 months. I believe I vatted it with 80% Grant's (the universal solvent). However, I think I saved a small sample for posterity.
Everything you say about it is correct from my experience. If you read my review the last line says, "I could easily see this rated in the 70's by someone who doesn't have a huge soft spot for high powered peat monsters." Now, I do know you enjoy the peat monster, but I think you are far more objective in such matters. So your score doesn't surprise me in the least.
@Robert99. Funny thing, that batch of 10/11/2014 is probably my favorite Corry batch yet! I loved that "herbal" note you mentioned. It is interesting that you mention Springbank and Bruichladdich by way of comparison. I think you might have struck on something there. @Victor did try this batch on my last visit, but was not a huge fan. He also was put off by the "herbal" note if I remember correctly. He enjoyed L11 279 much more. I would say L11 279 is an excellent version of Corry (I have it around 93 to 94). But, I am so glad I have three more bottles of 10/11/2014. For me it scores 96 on all four tasting I have done with pen in hand.
@maltmate302 - that is why connosr is here - to help fellow whisky lovers avoid those bad batches. I just wish we (myself especially) were better at identifying those batches on the shelves now. Here in the US it seems to take a year for batches to show up from bottling.
FACT: my local liquor store still has bottles of this very batch, L13 240, on the shelf. With the way this batch tastes no wonder no one is buying a second bottle.
@Victor Well, unfortunately that is the proof that Corrys and Uigies are not all good. My batch, L601 27 10/11/2014 1401 had a herbal note half way between Springbank and Bruichladdich that was a bit to much for me at the beginning but that has now recessed. It is very good but not exceptional. So there is hope that we will get good Corrys in the future.