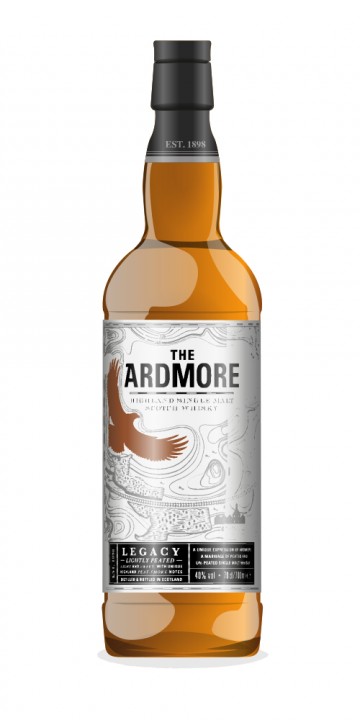 I'm beginning to become acquainted with the Ardmore distillery a bit of late, well some of its products I should say, and find myself with a bottle of the Legacy. Often available for £20 in the UK so not much more than a budget blend would cost - worth bearing in mind!
I picked up a bottle last year and received one as a gift at Xmas so thought it about time I cracked one open to taste alongside the IB SB I reviewed last week.
Nose - dusty, old oak, vanilla, soft smoke and light peat. If you really get your nose in there the peaty tang emerges more. Sweet and lemony. Not quite sherbet lemons but heading in that direction. There's a bitter/herbal note I can't quite put my finger on which isn't that pleasant to me. I have a feeling it's coming from old casks but what do I know? It's certainly not present in the IB.
Taste - lemon pith, malt and a touch of smoke. Thin mouth feel but not watery. Not harsh in any way.
Finish - Yes, it does and quickly! Some mildly bitter tannins.
Adding a few drops of water isn't ideal at 40% but it does help round off the bitter edge on the noseand brings out more of the sweetness on the palette.
So, not a world beater but I wasn't expecting one for the price. It's filling the place of a cheaper blend in my opened stash and at that it does a decent job. Nothing wrong with this but I think it may hang around for a while if you get my meaning?
Also worth noting I've a bit of hay fever/summer cold thing going on so perhaps not at my best.
@Nozinan - You're welcome! Yes, the abv is not helping but it really is worth factoring in the cost on this one. I've rated this as I would a malt but if I were comparing this to blends at a similar price then it would be mid eighties, if that makes sense?
Glad I've had a look at Ardmore, and the blend I've made with the IB (and others) is coming along very nicely, but I doubt I'll be looking their way again for a while. A sweet smoky profile that never really grips me outside of Islay/Island whiskies.
@RianC The conversation of relative value has taken many forms on this and other sites.
Personally I do not agree with "it's good for its price" rationale.
To me it's either worth drinking or it isn't. If it isn't then it doesn't matter what the price is. If it is worth drinking then you have to ask "is it worth buying?"
If it's worth buying, the last question is "can I afford it?"
Addendum:
I should note that I, like many others, have gushed over OGD114 and how great it is for the price. But I think that's different. In that case it is a phenomenal whisky, and it passes the first 2 tests with ease. When it comes to the "can I afford it" question, that's when we se the the amazement that it can be so cheap, because other whiskies of similar quality cost so much more.