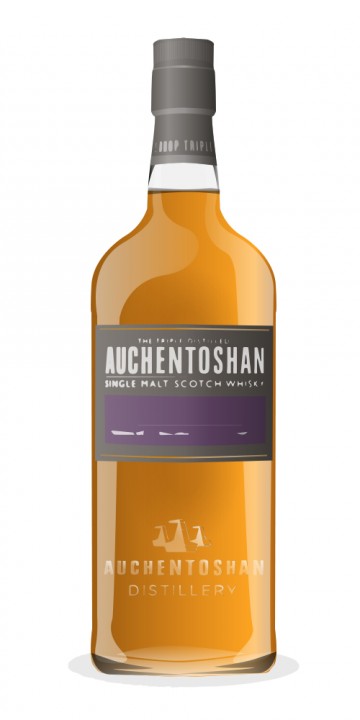 Robbie Burns Day came and went two days ago, and I didn't even have time to write a review. For shame. However, I'm thrilled to be able to have some time today (scotch only, of course cuz I'm gonna pretend today is the day) and even more thrilled to be cooking a Burns dinner for Pam and I! Mushroom soup, duck breast with chocolate mole sauce (with haggis, neeps and tatties of course) and pannacotta with peach compote for dessert (which I prepped last night). I'll have single malt pairings along the way, but today I'll be reviewing different scotches than what I'll be pouring tonight for Pam. In other words, I'm probably going to drink a bit too much today (which really never happens, of course...)
This expression of Auchentoshan is only available through travel retail, as part of a range of bottlings with oaky names (they should call it "Got Wood!", see I'm a marketing genius). The malts here (triple-distilled, of course) are matured in both deeply-charred bourbon and toasted oloroso cherry casks. This comes from a sample bottle, the provenance of which I have forgotten.
The colour is a coppery gold. Lots of dark fruits on the nose (dates, rum-raisin) with notes of bitter dark chocolate, damp coffee grounds, wet leather, liquorice all-sorts, Pledge wood polish and some serious oak. There's a balsamic note back there too. Hint of tarragon (I hate the taste of tarragon, but here it balances out the wood). Water adds a bit of a floral element. I like how the sherry oak is balanced out by that typically light, fruity Auchentoshan style.
The oak is there on the palate, but less dominant, with more of those rich sherried notes - more dates, raisins, balsamic etc. and very much in synch with the nose. A bit nutty. Chocolate orange. Lots of oak but those heavier notes are balanced with mint and buttered sourdough bread. Really works with a drop of water, adding strawberries and some spice. There's a youthful astringency that's slightly off-putting but overall this is very tasty.
The finish is a bit thin but develops into allspice, oak and plum pudding. I'm usually hit-and-miss on Auchentoshan, and while I do like this one, I fear the malt has been somewhat lost to the wood. Conversely, I also feel like this is a bit too young, although more aging would increase the already pretty strong wood influence. Overall, though, this is one of the better Auchentoshans I've had, for sure above the Three Wood, for example.
That sounds like a lovely Burns Supper and whisky pairings to go with it. I'm sure it was a memorable meal. It is a shame when the spirit gets buried beneath the wood, and as for that Pledge wood polish note.....I do find anything remotely like varnish, acetone, or nail polish hard to get past and very off putting in a whisky. It can't have boon too bad here though considering your overall comments and score. What other whiskies will you (or did you) have that night?
@talexander, my favourite part of Robbie Burns Day, piping-in the pannacotta...with a baghèt ;)