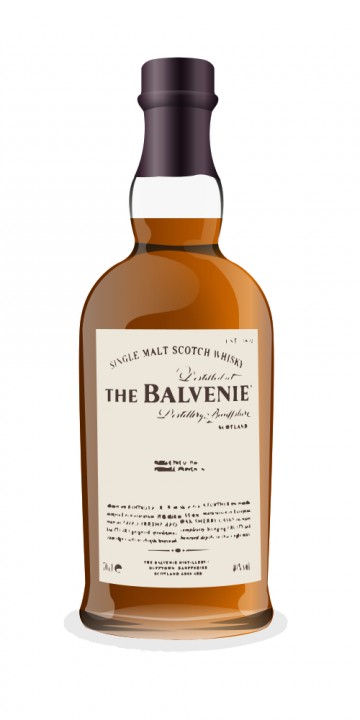 This is my 4th Balvenie, after the satisfying founder's reserve in '06 to the continously disappointing doublewood, the decent rum cask, and the rather beautifull port-wine finished 21 year-old.
So where would this 17 year-old Madeira finishing fit on this speyside roster?
To explain these varied(to be nice) experiences with a distillery with such an illustrious past (recent past) I will just say that some distilleries fare better than others when under heavy marketing policies. Two good examples would be Ardbeg and Balvenie. Although i don't like Ardbegs eccentric marketing strategies over the past 5-6 years i must give credit where it's due and say that it hasn't held up on, nor diminished the quality. Whereas for Balvenie, ever since the marketing gurus over there took the place over a number of years back it has never really been the same star it was in the 80s and 90s.
But enough about lectures, focus on the whisky.
Nose: This can be easily summed up by Apples and Barley/Barley sugars. It's two-dimensional, but rich! The Apple note is complex and goes from sour green Granny Smith's to Sweet/Lush Red Gala to end up with a slightly bitter yellow apple or apple peel really. Very complex apple note, which is always supported by that rich barley and barley sugar note, which lays as a steady bass on the the apple-solo.
Taste: The Two-dimensional nose translates to a three-dimensional palate. The arrival is delivered by the still superb apple combo punch. This then gets the company from Tuscan blood oranges and Jerez oranges. The two hold the palate up all for themselves delivering very complex undertones that are quite hard to differentiate, which suggests good marriage. Then there's an explosion, actually not an explosion, more like an explosive surge of peppers. It's so forceful i can't differentiate the peppers at all for which i will give the description Black peppers and piri piri.
Finish: This is this whisky's BIG weakness. Funny that Jim Murray said the finish was long, i agree quite well with the nose and taste (although it's always going to be different between expert and amateur) but couldn't see a long or even average finish in here. Such a shame for the stable, 2-3 dimensional quality on the fore to be let down by such a disappointing finish. It's disappointing mostly for the fact that it is the same weakness that lies deep within today's Balvenie range. The word for it is a desperately short "fade" where the flavor never comes back, and you try sipping it back thinking you didn't focus enough or that your taste buds had a lapse of attention, but no.. it's gone.
So a drama of a whisky really, a great performance somewhat ruined by the now anticipated mediocre "fading" Balvenie finish, here's to hoping they can correct the course of their, otherwise, lovely Speyside Ship! Get Better Balvenie!