Buffalo Trace Stagg Jr
Ch Ch Ch Cherry bomb!
5 1392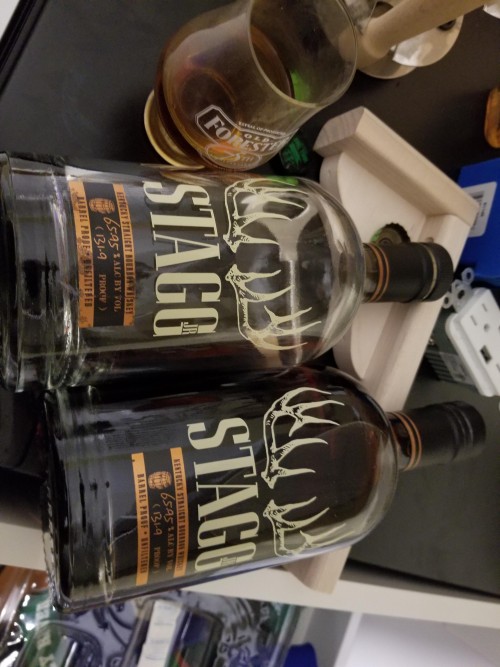 Nose

~

Taste

~

Finish

~

Balance

~

Overall

92
Distribution of ratings for this: brand user
I'm a little late in my promised review, but that is because I've been savoring every last drop of the best bourbon of 2017. When Booker's raised their price I sought out some alternative barrel proof offerings. I had Stagg Jr. a few times and never really preferred it to Booker's.... Until now. I found this bottle for under $50 so took the plunge. After which I made the public service announcement here: connosr.com/connosr-public-service-announc… I sill have 4 more bottles, hardly enough, but that is the nature of batch releases.
Nose: Sour cherry, ginger, wood freshly turned to charcoal - still smoldering. It is almost too sweet of a nose. Reminiscent of a cherry jolly rancher, but there is more depth to examine. I cover the glencairn, concentrate the aroma, and release! More cherry of course, but also sweet corn, vanilla, cocoa, and again just lovely cherries.
Taste: Marvelous! 65% abv never tasted so good. Warm and gooey cherry cordials. Something slightly metallic like copper but it fits. The wood and abv start to throw their weight around, tempting you to add ice or water. Some days I resist and others I give in - I am never disappointed.
Finish: A little hot as expected, but not drying as would be the case if over wooded. This is a sweet, wet, stickey heat. A hot and humid day, but doing something you love all the same. Sugary charcoal and the metallic copper remain at the very end.
Balance: The cherry in this bourbon is unique. You could argue it is off balance since its profile is skewed in that direction with little room for other characteristics to shine. I happen to love it and it is reminiscent of my first EH Talor Barrel Proof which has a huge strawberry presence or Booker's 2015-4 which has heavy orange notes. All of these Bourbons were exceptional, not because they sacrificed flavor for overall balance, but because they didn't.
Final Thoughts: Sorry this is late. Maybe you've had this bottle tucked away in your cabinet for the last year. It's time to open it and enjoy! Outstanding from start to finish. This is my 2nd or 3rd bottle of this batch. I've got a few more to go and plan to enjoy this beautiful bourbon for years to come.
Find where to buy Buffalo Trace whisky