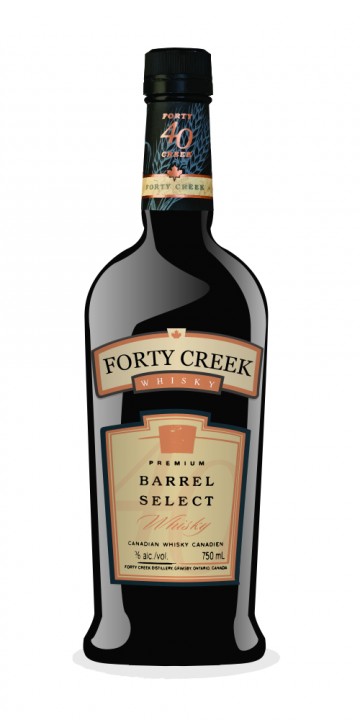 The following is a preview of an upcoming blog post
In an era where clear spirits were all the rage and most Canadian whisky companies were playing it safe, winemaker John K Hall took a chance and brought his unique experience and perspectives to the whisky industry. He laid down the first stocks of what would become Forty Creek whisky in 1992. Hall's innovation and commitment to quality reinvigorated the Canadian whisky industry. If you've ever seen a bottle of Forty Creek in your local grog shop, it's likely been this Barrel Select.
My history with this whisky is mostly positive, but in the past year, I've hit some particularly bad bottles. Luckily, this last one was a very good bottle.
Tasting Notes
Nose (undiluted): lots of sweet notes. Butterscotch, very much like Werther's Originals, caramel popcorn, rich and deep brown sugar notes, and light rye spice in the background. Take your time and let it breathe and you may notice some nuttiness in the background and a slight savoury note. Very full and inviting.
Palate (undiluted): Rich arrival, surprisingly rich for a 40% ABV whisky, more butterscotch/caramel, a bit of milk chocolate, very light rye and pepper notes in the background with a bit of a light citrus note throughout.
Finish: Medium length, buttery and sweet with hints of berries (blackberries, raspberries) making an appearance. This is a very friendly whisky.
Adding water or ice doesn't change much in the way of flavours. The sweetness is a bit muted, but that might be a function of dilution rather than temperature. Maybe it's a combination of both. Either way, this is a very easy drinking whisky. It makes for a great "background" whisky when you're having drinks with friends and you don't want to spend all of your time or attention on what you're drinking. But... sip it from a Glencairn glass and take your time, and there is some serious complexity here, albeit subtle. I can't help but feel this one would be improved at a higher proof, maybe around 46% ABV. But I'm biased towards (moderately) higher proof whiskies. I think (rightly or wrongly) that there might be a bit more balance or that the rye spice and cask notes would balance out the whisky a bit better at a higher proof. But maybe I'm wrong.
All in all, this is the best Forty Creek Barrel Select I've had in a very long time. I hope the batch number is correct, as the stamp was somewhat hard to read.