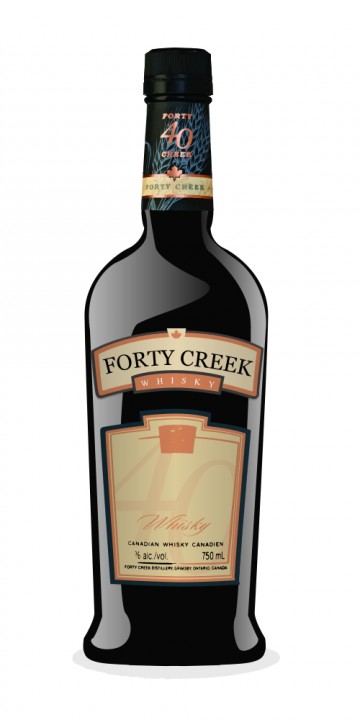 This whisky was released in 2016 to honour Forty Creek founder John K Hall. Through a series of odd, yet perfectly legal, events, this bottle came into my possession at very little cost. Hurray for me !! There are reports that this whisky has a higher proportion of barley whisky as opposed to the more traditional corn whisky. Early reviews suggested that there were some prominent ethanol/cheap vodka aromas present, but I didn't detect any of that. Maybe "bottle aging" isn't a myth after all. I've gone through about 1/4 of the bottle at the time of reviewing.
Neat from a Highland whisky glass
Nose: very shy and restrained at first, vanilla, almonds, caramel, raisins, plums. With a good rest in the glass, there are some cinnamon and apple cider notes coming through. Interesting.
Palate: gentle arrival, cinnamon, plums, chocolate, pecans, caramel,
Finish: medium length, more caramel, pecans, apples, chocolate, and cinnamon.
After about an hour in the glass (it often takes me an hour or more to get through any given dram) things start to fall apart a bit. The tail end finish becomes more like apple cider vinegar and it's a bit weird. I still enjoy this whisky, but I feel like FC could have put together a more fitting tribute to founder John K Hall (something like the Portwood Reserve, anyone?)
Good review. Our scores are only 2 points apart.
As I mentioned in my review, this expression from 2016 (if I am correct) was part of the downward trend for FC releases that peaked, in my opinion, at Heart of Gold. I didn't think much of it, which is probably why it has languished in my cabinet, un-poured in over 3 years (last poured for @Victor and family).
If o could do it over again, I'd have tasted it from someone else and left it at that.
@Nozinan This seems to be one of those bottles that gets a bit worse with time. My first few drams were really good, but it feels as though it's "flattening out" a bit with air exposure. It's still enjoyable, but the lovely caramel-pecan-chocolate combo is less pronounced.