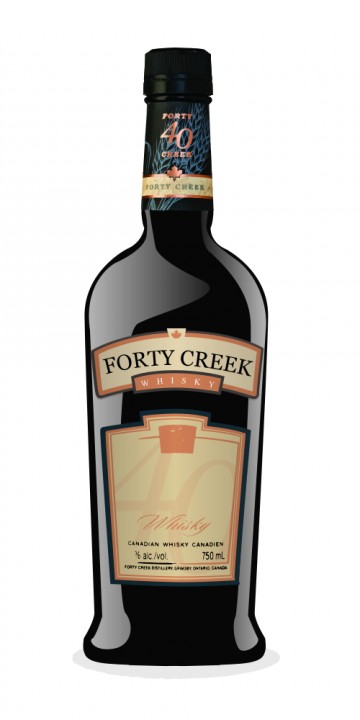 It's hard to believe that this is the first review I've written since Dec 25 2020 - over four months ago. For various reasons I took a pause on my whisky passions but I think it's time to get back into it, don't you think? And I've accumulated way too many bottles, so I have to get through these in a more constructive fashion that drinking in front of Friends re-runs on Netflix or Crave. So let's put pen to paper (as they say). The first batch is going to be some of the random Canadian whiskies I have kicking around here, starting with two Forty Creeks.
The first is their small batch release Double Barrel Reserve, which is maybe their next level up from the standard Barrel Select. It's a blend of aged corn, rye and barley whiskies that are then married for up to two years in once-used bourbon barrels. This is from Lot 272.
The colour is a soft medium caramel. Immediately nutty on the nose (macadamia, toasted almonds), lots of vanilla, creme caramel, marshmallow and rich fruits like baked apples and dates. Dark honey. Hint of lemon pepper. Cloves. With water the oak becomes more dominant. Pretty rich but perhaps a bit too sweet - though if you like their house style this is essentially perfection.
On the palate there is more caramel and vanilla, freshly ground cinnamon and lemon zest (it's surprisingly citrusy). Buttery, creamy mouthfeel - even creamier with water. Nice balance between the fruit, oak and spice. Dangerously drinkable.
The finish is BBQ'd corn, black pepper and caramel apple. This is a solid Forty Creek and very indicative of their DNA in all the right directions, though leaning toward a bourbon style. Don't expect anything exceptional like some of their earlier special releases, but for a mid-level Canadian this is excellent value.
I had forgotten that five years ago I had reviewed this bottling, but Lot 240. I scored that one an 82.