Jameson "Marconi"
A Pallet of Irish - Part V of Whatever
2 090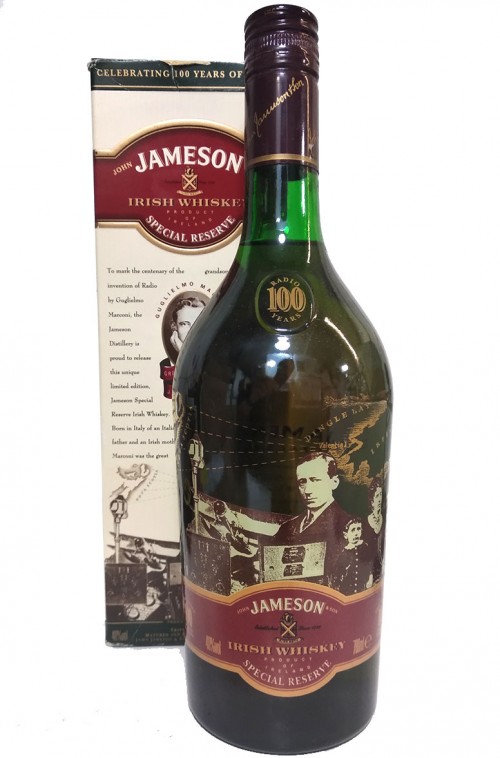 Nose

22

Taste

23

Finish

22

Balance

23

Overall

90
Distribution of ratings for this: brand user
Fun fact: Guglielmo Marconi was the great-grandson of John Jameson! You may know that Marconi invented the radio; you may also know that John Jameson invented...well, Jameson. So this bottling ("Special Reserve Celebrating 100 Years of Radio") honours the first transmission back in 1895.
The colour is a bright gold. On the nose it is much maltier than the standard Jameson, with honey, strawberries, mango and papaya. Rather floral. Lemon curd. A touch of eucalyptus. Woody. Very bright and fruity. Water adds lemon pepper. Lovely, slightly sweet and spicy.
Silky smooth on the palate with more honey, woody herbs (rosemary, thyme), more lemon and butter cream. Water adds a touch of maltiness. Very delicious - sweet, honeyed, fruity but with some spice as well - much like the nose but more enveloping somehow, perhaps due to age (though there is no age statement)?
The finish is spice, banana and milk chocolate. This reminds me of premium Jameson whiskies like Rarest Vintage Reserve. Compared to the standard Jameson, it seems older and much more mellowed (though this bottling of standard Jameson I have is quite good). Could be more full-bodied though. Will definitely hang onto this one for a while!
Find where to buy Jameson whisky