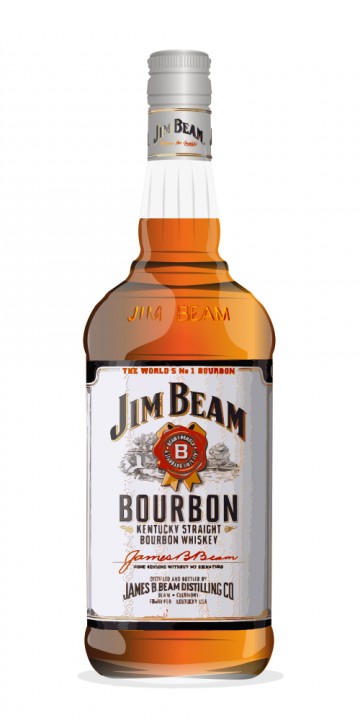 I had been a lover of rye whiskeys for quite awhile before I recently tried the (ri)1. I was very much looking forward to it. As always, I sampled this neat.
Nose: Very little nose. Maybe the faintest hint of rye grain. Very little wood noticeable either.
Taste: fairly thin body with barely discernible rye flavours and not much else. Not too sweet,either, since there was not much flavour of any kind evident. The wood flavours were also subtle to the point of being almost imperceptible.
Finish: Not much taste on the palate led to not much taste on the finish. Medium length of time, but there was still very little real rye or wood flavour in evidence.
Balance: Where's the rye? The juiciest spiciest grain around is nowhere in much evidence in this whiskey. Rye is my favourite type of whiskey, but I cannot recommend this (rather expensive) rye bottling. This tastes to me like 30% rye and 70% neutral spirits. I can only guess what Beam was going for here: hearty rye whiskey neutered for the vodka crowd? An unsuccessful attempt to duplicate the subtleties of Alberta Premium Rye? In any case, I would rather drink standard ryes like Old Overholt, Rittenhouse, Pikesville Supreme, and Beam Yellow Label(which costs 1/4 as much per bottle in this area) anytime over the ri1.
This was the worst of the 12 ryes I had at a tasting last year (Jim Beam Yellow Label rye was only slightly better). Almost no taste what so ever. I knew I was right when both a vodka drinker and some cocktail lovers claimed it worked for them. Most of my bourbon drinking friends skipped this for Sazarac, Old Overholt, or Russels Reserve Rye.
It's also a little strange that it is at the complete opposite of the flavor spectrum of the Jim Beam rye. Both are light in body but the Jim Beam has a huge peppery kick.
@joshk, wonder of wonders! I had some (ri)1 tonight at a restaurant which was GREAT!, completely unlike all of the previous washed out crap that I have sampled the last few years which went under the name (ri)1. Ye Gods, Beam! Get some quality control and get some product consistency! What I sampled tonight was flavourful, elegant and delicious, and I would rate it at 90 points. Based on what I had tonight, I can understand why Jim Murray rated (ri)1 very highly this year. Based on my previous samples of this, though, I would have consigned anyone calling this a 90 pt whiskey to the luney bin.
This just shows you, once again, how much these whiskeys can change year to year and batch to batch.