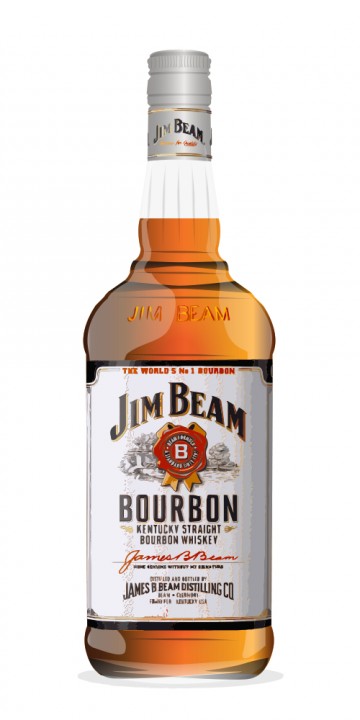 For my 459th Connosr review, and nearly exactly 1 year from the date of my last review, I shall review, for the very first time, Jim Beam White Label. Why Beam White Label 7 1/2 years and 458 reviews later, you ask? Well, looks like I have never bothered to review Jim Beam White Label before, and a whole helluva lot of this stuff is made and drunk, worldwide. Beam White is the No. 2 best-selling whisk(e)y in the US, behind Jack Daniel's Old No. 7. As straight bourbon whiskey with no age statement Jim Beam White Label is assumed to be 4 years old. The reviewed bottle is newly opened. It was a gift from a friend
Nose: somewhat subdued at first, but grows to moderate in intensity; tannic wood, caramel, and muffled vanilla; a little wood spice and slightly sweet. This is certainly pleasant enough, but it is no great shakes and possesses no elements of sublime beauty. The score would be higher if this batch were not overly tannic. Water added improved the nose greatly, harmonising the flavours and smoothing out the rough tannic edge. Score: 18/25 neat; 21/25 with water
Taste: very caramel-y; sweeter in the mouth than on the nose; the tannins and char add some bitterness in the mouth which seems out of place. Otherwise the nose translates rather well to the delivery. Water added mostly just dilutes the flavour in the mouth with only slight improvement. Score: 19/25 neat; 20/25 with water
Finish: medium length, dying on tannic wood which is not so delicious. Water added greatly tamed the nasty finish. Score: 16/25 neat; 20/25 with water
Balance: good balance in the nose, only fair thereafter. Score: 17/25 neat; 20/25 with water added
Total Sequential Score: 70 points neat; 81 points with water added
Strength: moderate strength throughout. Score: 22.5/25
Quality: adequate to good grain flavours; so-so quality of flavours from the wood. Much better with water added. Score: 18/25
Variety: adequate variety only. Score: 17/25
Harmony: too much tannin mars the prospect of good harmony. Once again, much better with water added. Score: 16/25
Total Non-Sequential Score: 73.5 points (all scores here neat)
Comment: well, I've drunk samples of Jim Beam White Label over the years from various bottles, most not owned by me. Jim Beam White Label is what is left over after the high-quality barrels for the Beam premium and super-premium products have been sequestered for more exclusive releases. Beam White probably represents 60+% of the total output of Beam standard moderate rye mashbill bourbon. A review needs to primarily address the whiskey sample at hand. Like all big mass-release brands Jim Beam White Label has a significant range of variation in the tastes and qualities of each batch. This currently reviewed bottle of Beam White Label is probably from one of the lesser batches from which I have sampled. At its best a batch of Jim Beam White Label may be an 85 point whiskey; at its worst, it could rate below 70 points. 40% ABV whiskey from the large American distillers should be considered designed primarily for mixing and cocktails. American distillers have de facto agreed to 43-47% as their estimate for the ideal mass-market distribution ABV for "sipping whiskeys". If they bottle it at 40% ABV they probably do not think that it is for sipping
I was shocked at how much adding water improved this 40% ABV whiskey. I wasn't going to try it with water because it is already only 40% ABV, but that would have been a big mistake. I tried it with water added only out of a sense of completeness. I am very glad that I did. Maybe that is a nod by the distiller that this whiskey will work well with rocks, water, or mixers. If you try to sip your Jim Beam White Label, try it with water if you are not liking it neat
My composite score is for the whiskey at its best, with a couple of drops of water added
@Victor, thanks for taking a bullet on this one. I have a few regrets about leaving bottles on the shelf on my recent trip with @Nozinan to the Baltimore/D.C. area. I regret leaving behind a Lot No 40 2012 Edition, Glenlivet Nadurra 16 YO and especially Jim Beam Black Extra Aged. I wanted to bring home a handle of this one, but there is a limit to all of this madness and 13 bottles seems to be mine....and Maker's Mark Cask Strength and another Talisker 18 YO, four more different WhistlePig Single Barrels, Boss Hog 13 YO, Wild Turkey Master's Keep Decades of Richness, Stagg Jr, Elijah Craig Barrel Proof, Knob Creek 25th Anniversary, Isaac Bowman Port Barrel Finish, 1792 Full Proof, Bulleit Barrel Strength, 18-pack of WhistlePig 50 ml minis, John J Bowman Single Barrel, Jefferson's Ocean Aged at Sea Cask Strength, Jefferson's Ocean Aged at Sea Voyage 15 Special Wheated Mash Bill.....
@Victor, I want to say that I heard all of Lagavulin's output was sold as single malt. (Note that I'm not saying it all goes into their OBs—some of their stuff is obviously sold off to IBs, even if it's not always labeled as such.) But I heard that a very long time ago and I'm not willing to put much stock in it today. Besides, didn't they expand production?
Even Springbank, who is my usual suspect to answer any question about which distilleries are exceptional, markets a blend or two of their own, so they too have a dumping ground for their sub-par stuff.