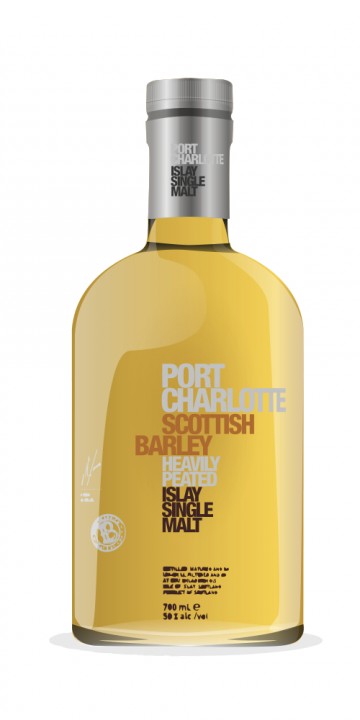 This is my first Port Charlotte. If I'm honest, I've probably steered clear of them because I think most of the Bruichladdich bottles are ugly – give me a traditional looking bottle any day (yes, I'm that fickle). Anyway, after reading many a review, it was @RianC who finally convinced me to try it. Thanks, mate. The blurb says: "Peated to a heavyweight 40ppm, Port Charlotte Scottish Barley is a multi-vintage cuvee crafted from casks hand-picked by head distiller Adam Hannett. This remarkable single malt, originally created by the legendary distiller Jim McEwan, represents a union between the classic floral elegance of Bruichladdich and heavy peat."
I kind of like them calling this a cuvee because that's really what it is. I love how you can go to their web site, enter your bottle code, and get a recipe for the batch you're drinking including the number and origin of each cask type, and their vintage. This bottle, bottled in 2016, (Batch number 16/264) is a vatting of 58 casks, 3 vintages (2007, 2008, 2009), 4 cask types (including 48 ex bourbon, 8 Spanish red wine, 7 French white wine, and 1 sherry), and one barley type.
Nose: Salt, resinous reminiscent of pine needles, floral but herby, caramel and vanilla sweetness, slightly medicinal peat - slightly tar like. Peat fades over time and rounding out, leaving more sweetness reminding me of wild flower honey.
Palate: Sweet but sharp, clean and crisp, salty, slightly acrid smoke (creosote), herbal like herb flowers, wild flower honey, some citrus, and spicy.
Finish: Smouldering fire with the peat becoming more earthy and forest floor like, vanilla sweetness fades, eucalyptus or menthol, warm oak and spiciness lingering.
The mouthfeel is medium but the warmth of the 50% ABV carries through.
I like it. It's clearly youthful but it's so enjoyable – it's just so easy to drink. There's plenty to think about if you want to, but the last few times I've had it I've just enjoyed it for what it is – a delicious, fresh, sweet and smoky Islay whisky. Although it's labelled 'Heavily Peated', it is no peat monster – just a lovely balance of sweet and smoke. On a side note, this reminds me somewhat of The Six Isles vatted malt by Ian Mcleod – it may be something to do with the variety of cask types used in this multi-vintage cuvee.
@Hewie, thank you for your beautiful detailed review.
I've tasted this whisky only once and I wasn't too impressed with it. It may have been because it was in the tasting context of quite a few really great Islay whiskies. It looked meagre by comparison. It was also I believe a freshly opened bottle which may have been much better with a few weeks of air time I look forward to reassessing it in future experiences with it.