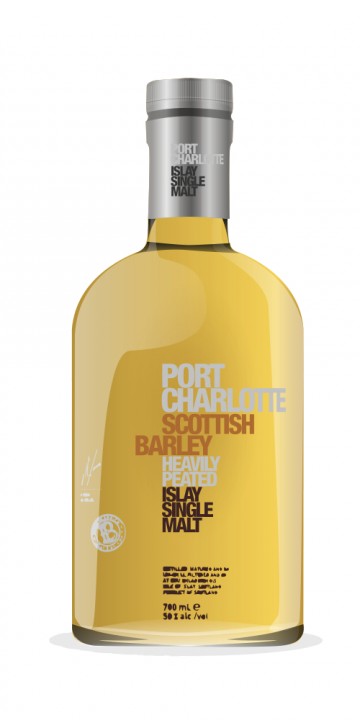 On the Alchemist bottle label, by Gordon Wright: "When I bought Bruichladdich with Mark Reynier and Simon Coughlin in 2000, we decided to produce a much more heavily peated single malt than Bruichladdich was. The result was this outstanding dram. Named after the long defunct distillery in the neighbouring village, it was an acknowledgement of how Bruichladdich might have tasted when the distillery was founded in 1881."
The whisky was distilled in May 2002 and bottled in June 2007. There are 300 bottles total
The reviewed bottle has been open for 2 years and is 35% full. Inert gas has been used to preserve it for the last year
Colour: quite light
Nose: peat and gentle smoke are prominent with many waves of subtlety, some from peat, some from barley-malt, and a little from understated wood. The peat is sweet, gentle, and quite refined. This is some of the most nuanced and delicious peat I have encountered, and it reminds me of the glories of Octomore, and only slightly reduced in intensity. The malt shows robust citrus on the nose, which is nicely balanced between sweet and tart. I also get carnation, apple, pear, and even peach among the flavours
Taste: there is a good translation of flavours from the nose, with the peat and smoke making a much stronger statement on the palate than in the nose. There is clearly less wood influence here than in older Port Charlottes, but that does not detract from the ability to enjoy the ethereal nature of the flavours which are presented
Finish: this one stays long and finishes on "peat and sweet", and very pleasantly so
Balance: this Alchemist bottling of PC 5 is a whisky especially made for connoisseurs of peat who like the subtleties of peat and smoke. This is both ultra-earthy in the peaty sort of way and simultaneously ultra-ethereal in its peculiar form of lightness which relates to the shades of subtlety presented. That makes for me a fascinating contrast and a whisky which sits in a unique place for me among the many heavily peated whiskies for which I have affection
Fantastic review. I remember this dram very fondly. I think you captured the delicacy of this 5 year old very well. I was shocked at how old this guy seemed (and the Springbank for that matter). At such a young age this seems like an older Ardbeg. I am actually afraid that if Port Charlotte continues to mellow out I won't like it as well . . . oh well, I'm just amazed how great this is at such a young age.
@PeatyZealot, nope, I haven't had PC10 yet, but I like all of these Bruichladdich PCs and Octomores...the PC releases are always Islay highlights, and they are very much the siblings of the Octomores.