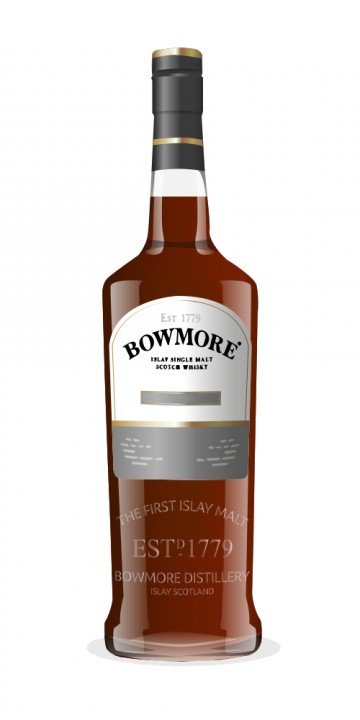 A reviewer needs to be honest, even when that means attesting to an experience at variance with those of others. As an Apostle of the message of the large degree of batch variation present in many whiskies I never find it strange that the same whisk(e)y can taste great from one bottle and horrid from the next, or that a brand with which one has had horrible prior experiences can surprise one with a delicious bottle. I have seen both effects quite a few times now. So, with slight trepidation I will review a bottle of Bowmore 15 Darkest, owned by my sister, which I have loved since it was first opened. I know two things full well: 1) that in recent years, particularly about 4-5 years ago, there were many much hated batches/bottles of Bowmore Darkest being reviewed, and 2) that many malt lovers have an aversion to most or all Bowmores. I do not have an aversion to Bowmore, even the young ones, but Bowmore has never been a favourite distillery for me. I believe it is the leather note that is what is primarily disliked by most of the Bowmore dislikers. The Bowmores I have liked best have been Tempest 10 yo and The Devil's Cask. I have not yet become an enthusiast of Laimrig, despite having sampled it 2 or 3 times. So, for me, Bowmore is neutral ground, without either a favourable or unfavourable bias. Though I've never tasted Darkest from any other than my sister's bottle, which is being reviewed here, I have no difficulty imaging another batch of this same whisky turning out poorly. We really are on extremely shaky ground commenting on any bottle from which we have not personally drunk. A review is only accurate about the whisky at hand, from the bottle consumed, and at the time at which it is consumed. So, I realise that in writing a positive review for Bowmore 15 Darkest that I may be placing myself in front of a Firing Squad
The reviewed bottle has been open for 4 years and is 20% full. Bowmore Darkest incorporates Sherry finishing in addition to its house style of moderate peating
Nose: extremely well-integrated sherry accompanying typical Bowmore medium peat...in fact the peating level of this bottle is a little stronger than typical Bowmore. The Bowmore leather note is there, though it is discreet. Smoke is present, but light. Brine is noticeable and is well-integrated. This bottle has a great nose. Score: 23.5/25
Taste: very good translation of the nose flavours to the palate, with good intensity. The peat is slightly bitter and slightly sour. The wine flavours frame the peat-brine-malt complex from around the periphery. This old bottle has picked up a little more sour than it had for the first 3 years open. Score: 22/25
Finish: moderately long slow fade-out of all of the flavours. Score: 21/25
Balance: this bottle works, very well on the nose and well in the mouth. Score: 22/25
Total Sequential Score: 88.5/100
xxxxxxxxxx
Strength: very strong flavours throughout. Score: 23.5/25
Quality: absolutely everything in this bottle is enjoyable. Score: 22/25
Variety: lots of variety. Score: 23/35
Harmony: very good harmony of the parts. Score; 22/25
Total Non-Sequential Score: 90.5/100
xxxxxxxxxx
Comment: I've been drinking from this particular bottle of Darkest for 4 years now, and have loved every single dram I have had of it. For most of that 4 years I would have rated this 2 points higher than I do now, because it has very recently gained a little bit too much undesirable sourness in the mouth. So my word to you readers is: don't judge a Bowmore until you taste it,...and don't be surprised if someone else's bottle tastes better than your bottle does!
I see that I did not comment on the addition of water to the whisky's flavours.
Water added: 1) raised the pitch in the nose and bundled the flavours. The nose is different but still pleasant with water added. 2) Bundled the palatal flavours, giving a black licorice sort of average flavour. I will seldom use water with Bowmore Darkest.
This might be the first really positive comment I've seen for that Small Batch. (Not that I've seen tons of negative ones, either—it's not like it's McClellend's Islay!) I could see grabbing one as a bargain bottle sometime. A cheap, simple peater at 40% that you can guiltlessly neck straight from the bottle around a campfire is exactly what you need sometimes. Like when you're sitting around a campfire.