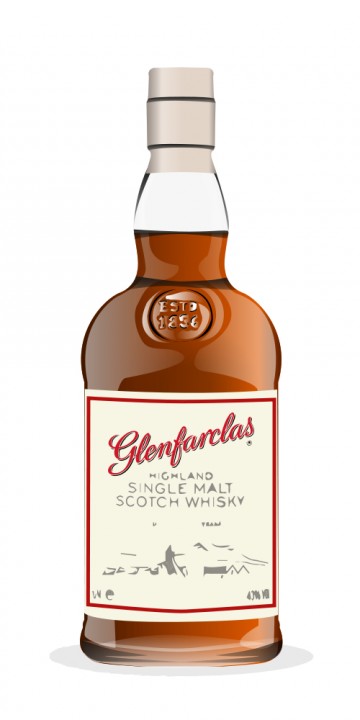 I bought and opened this bottle on my birthday in 2011. I made these notes a month later comparing it to the only other sherry influenced whisky I had at the time – Macallan 18yo. It was the only time I ever officially took notes on this bottle. Here were my impressions:
Nose: Plums, jam, dates, and baked fruit greet the nose. Blackberry, blueberry, loganberry, cherry, grapes, pear – syrupy sweet fruit and jam galore! Now maple syrup and brown sugar. When you step back you can certainly tell that sherry was here but almost like this is a whisky liqueur of scotch and sherry. So much plum and raisin . . . it almost overwhelms you. Surprisingly it is much less astringent and sharp then the Macallan at only 43%.
Taste: Sweet fruit syrup and sherry without an off note.
Finish: Nice gentle tidal wave of sweet sherry, fruit, and fire. Not the explosion I expected for 57.4% but still explosive – way more then the Macallan. It was nice, warming and long . . . really long. The sherry and sweet fruit jam seems to slide on into infinity.
Balance, Complexity: Super complex and rich. That is the word for this – rich. Balanced? Not really. It is more of a whisky and sherry liqueur. I could see how a sherry bomb freak would love it but not me. I have to give it points for complexity but not for balance.
Color, Body, Aesthetic experience: Dark mahogany color. Full bodied. Love the cask strength, vintage year (1974) and even the aging thing in the bottle (this was bottled in 2005). Love that the distillery is family owned. Love the price. Hate the cheep looking label on this bottle. It really doesn't look like a 31 year old bottle.
Conclusion: I was horribly disappointed with this bottle. I had done a ton of research on it, bought it at Binny's in Chicago, opened it on my birthday . . . and . . . it didn't taste like whisky to me. It actually felt like they had poured whisky into a half full barrel of sherry. If I wanted to drink sherry or a sherry liqueur I would have bought something different . . . that is how I felt. Well, my good friend in Nashville is a sherry lover. I took it over to his place and let him try it. This is a guy who turned me on to cask strength whisky. Further, he is a Macallan man through and through. It is through him that I have tasted some really expensive old style Macallan's. When he tasted this 1974 he turned to me and said, "This might be the best scotch I have ever had." - and this is a guy who let me try his precious old style bottle of Macallan 30yo from the late 90's. Long story short: I owed him. So I gave him this bottle about ¾ full. I visited with him this summer. He now has about ¼ left. I took a small nip from "his" bottle . . . still tastes the same. In hindsight I do kind of regret giving the bottle away so quickly. But there is something nice about checking in on a bottle from year to year just to see what happens. And there is something nice about having an old cask strength sherry monster to give to friends when they come over. However, will he enjoy the bottle more then me? Without question! And maybe that is the better end to the story. Make of my review what you will.
Fans of heavily sherried whisky will love it. Nothing was off. And it was very smooth for the 57.4% ABV . . . shockingly so. If you like that style (and can find it) I say pick it up. I think I paid around $180 or $190 including tax. For the age it was a great deal.
I hope my sherry influenced reviews are helpful - even though they are not my favorite. Maybe you can read through my own blinders.
I was arguing with myself whether to splash out on this one... Your review makes me think a more recent Glenfarclas 40 may be more suitable... Either way I want it :-( Great honest review!