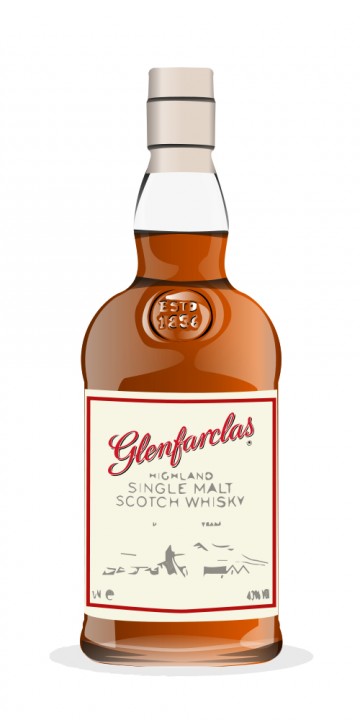 A recent review of this expression reminded me that I received a sample of this from @OdysseusUnbound back in 2017. I've wanted to try it for a while but I've not had an opportunity to sit down with it. Tonight, I got that opportunity.
The bottle was, if I remember correctly, a replacement for a tainted bottle he originally bought at the LCBO. His review can be found here:
connosr.com/glenfarclas-12-year-old-whisky…
The bottle was opened October 2017 and the sample poured, I believe, in November. This expression is reviewed in a Highland whisky glass in my usual manner, allowing it to settle after which I take my nosing and tasting notes, followed by the addition of just a few drops of water, waiting, then nosing and tasting.
---
Nose: 21.5/25
On first pour, fruity and sweet. Cherries. Slight vegetal quality. With time the pitch lowers a little bit, with a sour cherry note coming forward. Waiting a little longer, the sherry becomes quite prominent, and the vegetal note seems to diminish. A little bit of baking spice in the background. Adding water seems to make the nose slightly richer. (22/25)
Taste: 20.5/25
Rich arrival, sweet. Slight alcohol nip. Fruity. A little thin in the development. Not very complex. Water tones down the alcohol burn just a little, and the flavours become a little more complex. (21/25)
Finish: 19/25
Astringent, I get dryness but no flavour. Lasts a pretty long time. Water adds some sweetness to the finish. (20/25)
Balance: 20.5/25
The taste does not quite deliver what the nose promises. Maybe a little underpowered at 43%, and the complexity just isn't there. Water improves it just a touch (21/25)
Score: Neat - 81.5/100 With Water: 84/100
---
Trader Joe's Milk chocolate compliments it, but does not really improve it.
---
This isn't bad. I had considered buying a bottle last year and I'm glad I didn't, because I already have other whiskies that do a better job of anything this one is trying to do. This experience highlights the importance of a sample-trading network to cut down un-necessary expenses.
Thanks again @odysseusUnbound for this opportunity.
@OdysseusUnbound, well, just go out and buy 20 or 30 new bottles and you shouldn't have much trouble keeping a few of them around for a while. Yeah, I know, those bottles have gotten pricey, so 20 bottles will cost ya more than a little bit.
@Victor My wife is already unimpressed by the size of my.....collection. I've had to pump the brakes on my attempt to stockpile enough JP Wiser's Dissertation to get me through the zombie apocalypse....