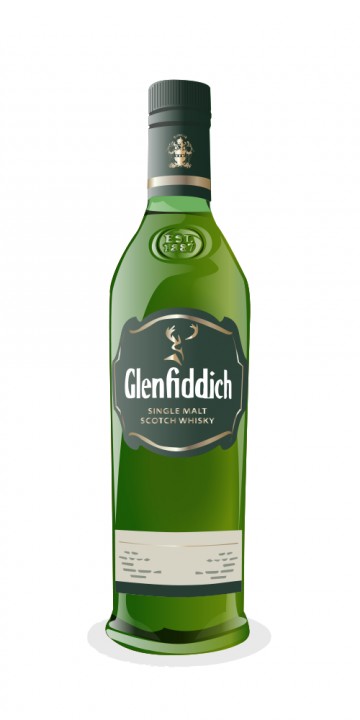 Whoa! This one is a trip! This 14 yo Bourbon Barrel Reserve is a USA only release featuring 14 years in bourbon barrels followed by 'finishing' in new heavily-charred oak barrels. This is not the usual 'keep the wood muted' Scottish malt. Apparently Glenfiddich feels that the US whisky drinkers will be more receptive to big-time new oak flavours in their malts. The reviewed bottle has been open for 12 days and I've gone through 40% of the bottle checking out its vicissitudes
Nose: lots of complexity; pear and apple flavours dance in a mist of floral elements, with even a hint of plum, apricot, and orange. Fresh oak, vanilla, natural caramel, and char confirm the charred new oak finish and compete with the malt flavours for attention and dominance. This nose changes quickly, which is very entertaining, and gives an ongoing kaleidoscopic show. This alternates between discreetly elegant and almost overpowering in its intensity. Water added diffuses and merges the nose flavours. Avoid water for best nosing. Score: 24/25
Taste: the gorgeous nose translates well, except that the strong influence of new oak and heavy char become even more obvious in the mouth. Still very good, but I would tone down the oak and char a couple of notches if I could. Water added bundles the flavours and somewhat mutes the wood. This is non-descript with water--avoid water. Score: 22.5/25
Finish: long; continues strong and steers toward bittersweet charred caramel and wood tannins. Sweet, sour, and bitter in the end. I'd like a lot less wood tannin. Water added produces a bundled non-descript finish. Score: 21/25
Balance: excellent balance in the nose, good on the delivery, fair on the finish. Score: 20.5/25
Total Sequential Score: 88 points
Strength: strong in the nose, very strong thereafter. Score: 23.5/25
Quality: nice malt flavours; good wood flavours. Score: 21.5/25
Variety: excellent in the nose; good thereafter, where the wood somewhat diminishes the ability to taste the malty flavours. Score: 21.5/25
Harmony: excellent in the nose, good on the palate, only fair on the finish. Score: 21.5/25
Total Non-Sequential Score: 88 points
Comment: Glenfiddich apparently believes that Americans want a lot of oak in their whiskies. You have to be very careful using charred new oak with barley grain, even as a finish, such as Glenfiddich 14 Bourbon Barrel Reserve
While I am a huge fan of this nose without water, I just don't think this whisky works very well in the mouth. There is too much wood tannin and taste of char. The overall experience remains good and definitely interesting, though
I have to ask Glenfiddich: were the casks for Bourbon Barrel Reserve blended together by the nose alone? If so, I can understand why you chose them-- they are lovely. But the whisky doesn't taste just like its nose. I firmly believe that a distiller/blender needs to TASTE the whisky before deciding that the vatting is complete
Comparing this to other Glenfiddichs, Bourbon Barrel Reserve has a lot more "oomph" than either the standard 12 yo or the standard 15 yo. The harmony of flavours in the mouth could be much better, however
This whisky is worthy of Victor's score of 88.
For those who miss the Balvenie 15 yr Single Barrel will find that this particular Glenfiddich is a suitable replacement.
Just got a bottle of this from my wife for Valentine's Day. Haven't opened it yet, but it sounds in the same ballpark as the 14 year old Rich Oak version (though that was 40% ABV). I really enjoyed the extreme oakiness of that bottling; nosing it was like sticking your head in a barrel. Can't wait to try this one.