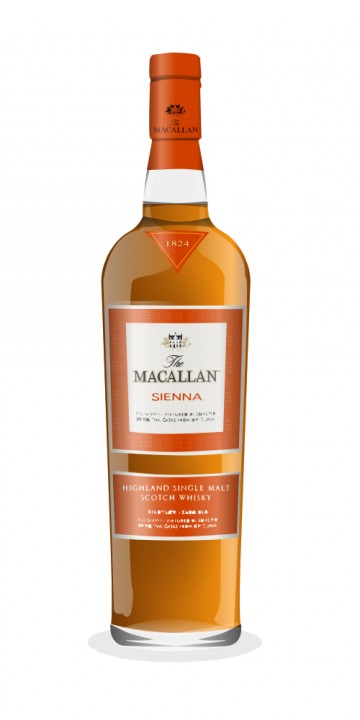 I have had the pleasure of sitting across Mr Bob Dalgarno, the famed Macallan Whisky Maker, for an interview and a subsequent tasting and I have to admit I was left with nothing but admiration for the man.
The painstaking process he undergoes to ensure that all his whiskies are created from careful barrel selection and put together to maintain consistency in taste and color is truly an art form.
Which is why I'm pretty sure it was the sales and marketing team and not Bob him self who felt that the right way forward for Macallan was to base their entry level whiskies on the basis of color.
Stupidest thing I've heard in my life.
They spend an entire lifetime trying to tell people that color means nothing, and it does not. Then they come and do the exact opposite because they've run out of ideas to market their whiskies by convincing people that darker whiskies are better whiskies.
Look I know stocks are dwindling. Whisky makers and blenders have to start innovating and thinking of new ways to market their whiskies to travel retail. I get that. But to take something as superfluous as color as a sign of quality is surely a great disservice to the patrons of the industry, is it not?
Oh, well. The Bentley needs regular maintenance doesn't it?
This 1824 travel retail series has four color expressions - Gold, Amber, Sienna & Ruby - each one darker than the previous one. Each one more expensive than the previous one.
The Sienna (the second most-expensive and second darkest whisky in the range) is, obviously, a Non Age Statement and is a mix of first and second fill European and American sherry casks. My sample is from a brand new bottle and served at 43%
Nose: Butter. Sherry. Nutmeg. Raisins. Hint of oak. Touch mossy. Like bung cloth. Let it sit and the vanilla comes through. Sponge cake. Cinnamon. Green apples. Touch of chocolate. Light hay. Quite a non-descript nose. Starts off smelling creamy but then thins out a bit. (21/25)
Palate : Medium bodied. Oily. Tastes of raw spirit a little. Cake. Nutmeg. Coffee. Those green apples again. Vanilla. Nutmeg. Hint of oak. Sherry. Dark fruits. It's not the best palate I've tasted. Something raw and harsh about it even after 30 minutes of breathing. (21/25)
Finish : Absolutely nothing at first.Pufffff and gone. Very flat. But comes back after a while. Slowly warms your chest cavity and your mouth. Cocoa beans. Coffee. Quite malty. (21/25)
I guess there's two types of people. The 99% that are reasonably fond of whisky and not very judgemental or critical. And that's fine and I hold nothing against them.
Then there's you and me who get upset because this once great brand has resorted to cheap tactics like this.
I get it. Greatness can't be purchased at the duty free. But it still irks me when brands don't even try.
My thoughts are against the grain here. From what I understand the 1824 series is a replacement to meet demand. I guess there were two options, hike the price hugely to slow sales, or move to a NAS line and free up some younger spirit to maintain supply to the growing demand. Obviously they went for the second option to keep bottles on the shelves. Now it simply wouldn't do to replace the previous line with lower age statements because people simply wouldn't buy it at the same price point. I think it is very clever work from the marketing team two base it on colour, even though they can only be compared within the same series. Obviously with sherry finished whisky without artificial colour added - the longer its aged the darker it will be. Obviously there are many factors that influence whisky colour and thats why it can not be compared to other whisky outside the 1824 series. for example you can not compare the colour of sherry finish to bourbon as the bourbon will be lighter etc.
Wouldn't it be great if there was a flow on effect to others in the industry to abandon artificial colouring and let the colour tell you something about the product? A very long way off but I'm sure I'm not the only one who can appreciate natural colour in a whisky.
Just my thoughts on it, like I said, against the grain. I accept what they have done here.
Great review, @MaltActivist, as usual. Thanks very much.
I've been wondering about these Macallan colour-named whiskies, but I have not been motivated to buy any of them. It may be awhile before Macallan establishes a new equilibrium with its no-age-statement lines. And I wonder, "Will there ever again be high quality Macallan sold at a good value for money?"