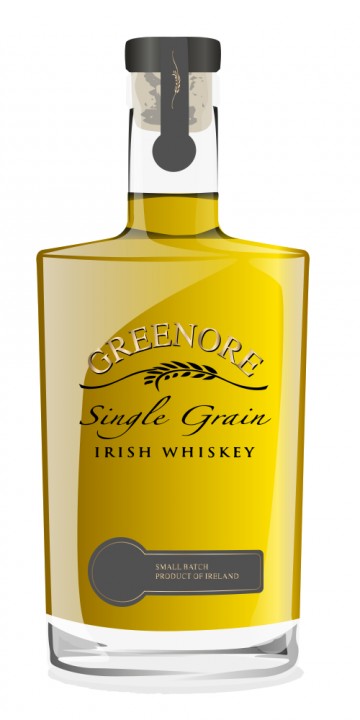 Greenore is the single grain label of the Irish Cooley distillery. People who know me, know that I have a soft spot for this whiskey. I already tasted the 6 Year Old, 8 Year Old (including the first batch), 15 Year Old and 18 Year Old and was able to secure one of the few bottles of the 19 Year Old Single Cask that was bottled exclusively for The Loop (the whisky shop in Dublin's airport). So when I found out that a 10 Year Old Single Cask (cask 87) would be bottled for Belgium, I was first in line to pick up a bottle.
The nose is rife with honey and banana, vanilla ice with whipped cream, milk chocolate, corn on the cob and pencil shavings. Something greasy too. Nice, but rather weak, actually. The alcohol created a mildly annoying diversion.
Slightly grassy, it caresses the tongue. Immediately you have to take shelter for a bomb of vanilla, sweet corn, caramel and banana. Very, very sweet with a nice helping of spices, creating quite the bite. A bitter oak lining as well. It delivers more than the nose promised, thankfully.
The finish, while not exactly short, offers nothing new, but that's quite alright.
This is a nice Greenore with a bit of sentimental value (being bottled for Belgium and all), but for me, the 18 Year Old remains the best of the range.