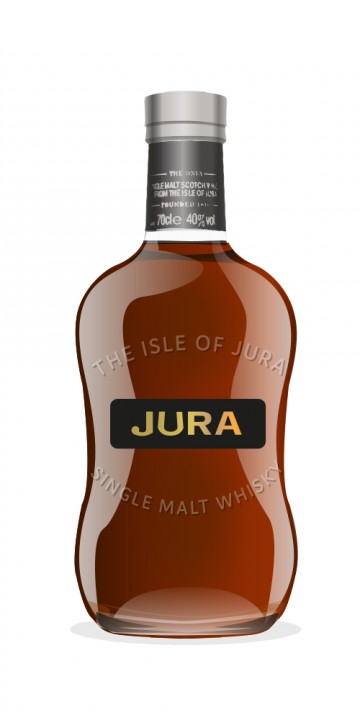 Beinn Shiantaidh, or The Sacred Mountain, is one of three mountains – or Paps – on the Isle of Jura, that typify the look of the island. They are usually hidden in the mist. This one has an altitude of 755 meters and is rumored to hide the remains of the Lord of the Isles. The whisky is one of three expressions in the Paps of Jura series, of which only 1366 sets were created. The Sacred Mountain is a 15 year old single malt, finished on Barolo wine casks. Barolo is an Italian wine from Piermonte.
When I first nosed it, I got the scent of a horse stable. Maybe it was my imagination, for it soon became creamy, fruity and flowery. The stable smell was gone, never to return. I do still get a hint of mushrooms, though. But after a few moments, the nose is all tangerines, rose petals, lavender and may-bush. The whole is lightly spiced.
On the palate, it's quite malty with a lot of wood. Quite spicy, contrary to the nose. Sweet and fruity with lots of caramel, butterscotch and white pepper. It balances on the fine line between wine-finished and winey, but gets itself back in hand in the nick of time.
The finish is medium in length and warming. The wine is still very much present.
Just like the other two expressions in the Paps of Jura series, this one is also non chill-filtered and will set you back some £100, which I find too much. I recently saw the giftbox with all three expressions at Harrods in London for £299 – which I still find outragesly expensive. I must say, in my humble opinion, none of these Paps are similar to any of the 'regular' whiskies by Isle of Jura.
I haven't opened this bottle to taste yet and would like to try to pair with chocolate for Christmas Eve. Any suggestions?