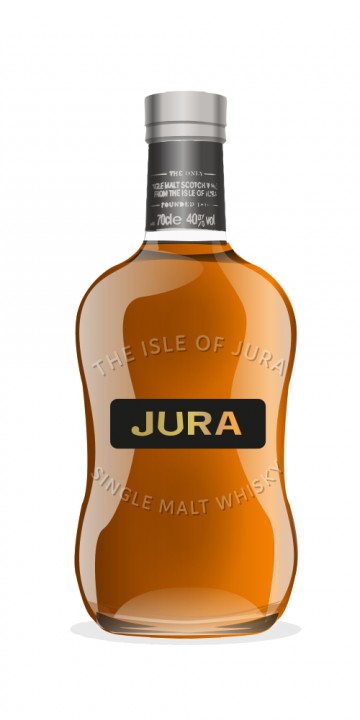 Correct me if I'm wrong, but I think this is the first Jura I've reviewed here. Originally licensed in 1831, the Isle of Jura distillery was leased to James Ferguson, who rebuilt it in 1875. It lay dormant for some time and was resurrected in the 1950s, at which time the house style moved away from a heavily peated spirit (much like nearby Islay). Utilizing very tall stills, the goal was to create a softer single malt. It was purchased by Whyte & Mackay in 2007.
Superstition is part of the core range, and is a mix of young heavily peated malt and older distillate, all matured in ex-Bourbon casks. This comes from a freshly opened mini I picked up at auction.
The colour is a medium gold. On the nose we get a blast of dark honey, butterscotch, sour apple, raisin, a hint of ginger and a subtle wave of peat. Cilantro. Nutmeg. Green banana skin. A drop of water gives it a vegetal note, not unlike a Springbank. It's a nice weaving together of sour, sweet and slightly smoky.
Not as successful on the palate though - a decidedly sour element takes over. The peat is there, but it's surrounded by too much caramel. Some fennel. Oak tannins. Thin mouthfeel. Water improves it by adding a bit of spice and tart apple. Lacks body and cohesion.
The medium-length finish is a bit spicy with some butterscotch and a touch of oak. While the nose and palate have a similar profile, the complexity somehow just doesn't translate in the mouth. The nose is intriguing, while the palate is a confused jumble, with off-key sour notes. I remember tasting this many years ago at an SAQ and having the same experience. I've had some older Juras that I've quite liked, but I'm afraid I'm not a fan of this one.
I have yet to try a Jura because my friends who have tried it have nothing good to say.
Nice review, I think it encompasses a lot of what is wrong and right with Jura.
I think most of the standard OB line-up of Jura suffers, especially the low abv seems to do it no favors, bringing forth a kind of sour wood element or cardboard like astringency in others. I don't think many Jura make it out to IB's except occasionaly Cadenhead and SMWS
I have had some interesting tastes from the "boutique barrels" series including one that was aged in an unlikely cask that previously held rosé wine, that was fantastic.