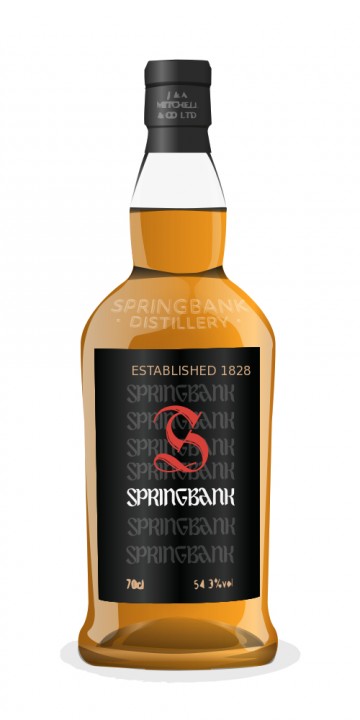 I thank @cpstecroix for the reviewed sample. This is a review of the standard distillery bottling
Nose: medium intensity cereal-style barley-malt, very noticeable brine, some peat and smoke, but not a lot. Yes, this is prototypical Springbank. The flavours are mostly medium-pitched and slightly higher than medium-pitched. The wood flavours are mostly modest and mostly in the background. The quality of these respective flavours is quite high. Score: 23/25
Taste: the peat and smoke are much stronger on the delivery than in the nose, and offer a mixture of bitter and sweet peat flavours. Otherwise the delivery is a good translation of the flavours from the nose. The palatal peat and smoke flavours of this particular sample of Springbank has a higher peat and smoke influence than have many other samples of Springbank malt which I have sampled. Score: 22/25
Finish: rather long, ending on bitter peat and brine. Score: 20.5/25
Balance: very good in the nose, good-to-very good thereafter. Score: 21/25
Water added: 1) raised the pitch, added sweetness, and bundled flavours in the nose, and 2) merged flavours, brought out sweetness and licorice, and bundled flavours in the mouth. This is the very RARE instance in which I PREFER BOTH the nose and the palate with a little water added
Total Sequential Score: 86.5 points
xxxxxxxxxxxxxxx
Strength: strong flavours throughout. Score: 22/25
Quality: very high quality of all of the flavours. Score: 22.5/25
Variety: adequate variety, but this is mostly a peat and brine show. Score: 21/25
Harmony: great harmony in the nose, good to very good harmony in the mouth. Score: 21.5/25
Total Non-Sequential Score: 87 points
xxxxxxxxxxx
Comment: a lot of people like a little salt in their barley cereal. A lot of people also like peat and peat-smoke to influence their whiskies. Springbank is made for these people. This sample is a very prototypical Springbank, based on all of my prior experience. This is neither the best nor worst sample of Springbank I have encountered. I was pleasantly surprised that I liked this sample a lot more than I had liked a bar sample of Springbank 15 yo previously. You really cannot tell the provenance of a bar sample, so that is not too surprising. I like this particular style well enough, but I like the more heavily peated and more heavily brined whiskies more
@Ol_Jas, I was intending to differentiate the typical Springbank 'house style' from that of the 'house styles' of other distilleries, in particular Ardbeg, Laphroaig, Lagavulin, and Kilchoman. All things considered, from the same distillery, I would more often prefer to drink the better Longrows than most Springbanks. I have had some fabulous Springbanks, too, of course.
I do think that a person can to some degree desensitise himself to some tastes. Whether that desensitisation is physical, merely psychological, or a combination of the two, I am not at all sure. You have clearly been on record as a brine hound from the beginning. I am sympathetic to that style myself. If the peat in a briny whisky is absent or light, though, I am a little more partial to the distillate of the Pulteney Distillary than I am to the distillate of Springbank. Just a little, though. Springbank is OK, and can be truly great.
@vanPelt, as far as "when he wakes", yes, I went to bed before midnight last night at my sister's house, where we had a tasting for 9 persons.
With respect to my choice of a review background image, I was just looking for some salt water to suggest the brine.
@Victor , you close by saying, "I like this particular style well enough, but I like the more heavily peated and more heavily brined whiskies more."
Are you talking about other whiskies in general, or other Springbanks? Either way, what are some of the more heavily brined whiskies you prefer?
I've been chasing briny whiskies since my first taste of Campbeltown in 2010, but they're hard to find. It seems like my "saltiness receptors" (or whatever) have blown out by heavily peated whisky, maybe, and I don't taste that straight brininess—without being part of a peat explosion—so much in whiskies where I used to find it, like Springbank 10 for example.