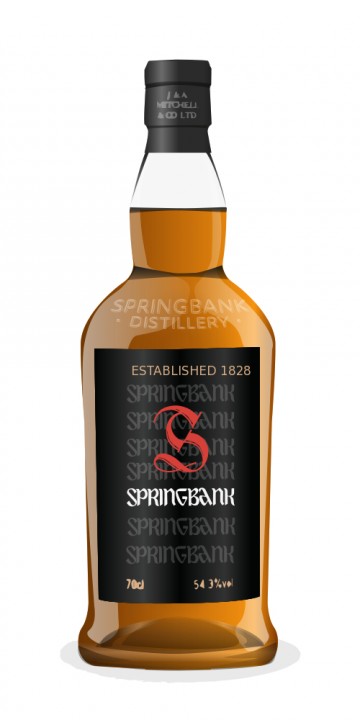 As promised (threatened in fact to be more accurate), my humble meandering thoughts over a dram of Springbank 10...
Le couleur -
Freshly cut hay, with a tint of… green!? A tone of gold, ripe wheat waving in the wind. Quite an unusual pantone, yet a lusterous sheen Ok, I was gonna write the whole review in rhyme… … but that'll take to long. I rescind...
The nose is of freshly cut grass. Honeycomb, in fact beeswax? A whiff of sweet, but not sugary. Hard to pin, quite elusive. Peel of an oven-baked red apple… sweet yet with a sour tang. Maybe it's my lack of experience, but compared to other expressions that are more 'in your face' I really need to close my eyes and concentrate over 3-4 inhalations to be able to pick the nose of this one apart.
The palate. A certain sweetness hits first of all carried through from the nose, but it's not crunchy sugar, or plum, or cake or PX os something that's so easy (for me) to pinpoint. If anything, I'm thinking of air-light caster sugar thrown into the air. It's viscous… not to say oily and thick. Wow, I like this! It invites you to 'chew' on it for quite a while, which I'm more than happy to do with this palate. And still, at 46% there's no bite at all, it's just inviting and very round. I could eat this.
The Finish is subtle, yet somehow it lingers on… I think I can perceive a slight taste of metal and minerals, like sucking on a copper 2p coin (not recommended as a general way to pass time). After a while it seems to be transforming into a slightly waxy aftertaste. Hmm... I'm not sure I like that last element. After about 10min of setting down the glass I'm getting a second wave of finish, with wet chewing tobacco. Hey, that was unexpected!
With a drop of water, a clear citrus / fruity component appears in the nose. Maybe even some tangy sourness, like a pomelo. I think I like the nose even more with a drop of water in fact. It's fresh and inviting. On the palate, a drop of water brings out some more powder sugar sweetness on the attack, but it's not overpowering (I e.g. don't take so well to the sugar-sweetness of Glendronach's younger expressions). The H2O also appears to give it some more alcoholic bite on the attack (which I suppose is rather counter intuitive...? Can lesser alcohol have more bite?). Having added water, I feel it accentuates the waxy element in the finish, almost gives it a drying characteristic… ok, that's was not so nice. I think I'd like to have my nose and palate with water, but the finish without - thank you, please.
There's quite a lot to get my head around in this one – I don't know if one may call a 10 year old 'complex', but I have the impression that there's quite a bit to explore in here. Not least do I note that it keeps evolving and rolling on into different guises for quite a bit since a first sip. That's fun! Maybe it's a 'complexity' more reminiscent of a semi-intoxicated dialogue with a teenager full of complicated curiosities and ideas rather than a well traveled alderman of 21 or 30yrs, but who cares - it's still rather enjoyable and inviting.
I bow and politely thank you for encouraging me to get this one. It's a very well invested £41.95 I'd say!
Thanks for the review. This one is quite complex, in my opinion, regardless of its age. Its character changes with air exposure as well, but I found it was best within 2-3 months of opening. After that, it got just a bit too sweet. Still very enjoyable. If you get a chance to try the 12 Y/O Cask Strength, do it. I've only had a sample, but I'd love to get my hands on a bottle of that stuff. Incredibly complex.
@RikS interesting how we taste or perceive whisky. I was thinking about this and I spent a while trying to find ANY actual evidence or measurement of salt in whisky. So far I have found zip - not a single piece of scientific evidence of salt actually being present in whisky. Now that doesn't mean we don't taste salt - just as there aren't actually any raisins, figs, honey, herbs, bananas,apples, nuts etc. in the whisky yet we can 'taste' them. I thought about getting out my Kilkerran 12 to refresh my memory but it's a bit early in the morning for me! This is a very interesting and thought provoking article though (and there's even a mention of Springbank / Campbeltown) masterofmalt.com/blog/post/… It'll be interesting to see if it changes for you after it's been open for a while.